I suspect this site gets very few visitors anymore. But, if you are reading this – thank you for coming!
I primarily talk about my crafty endeavors on my other site, The Crafty Tipster. It's there that I post my original crochet patterns and discuss my other crafting endeavors.
If you've been here before, you might remember that I had a unique arts and crafts directory – CraftyTips.com. The site's still there but it's got more than a few issues.
Crafty Tips focussed on sharing great crafting sites along with tips from each of their owners. There's probably millions, at least, of more craft-related websites that have launched since I started my sites. It's no longer about finding great websites; it's about finding specific projects.
Enter Timeless Fiber Designs. A new website! It's purpose? To blend what I learned from running my first 2 directories, fix what's wrong with Pinterest and create a family-friendly and drama-free resource for knitters and crocheters.
The goal is to help bring makers and designers together. Designers are never separated from their work (unlike that aforementioned 'P' site) and there's none of that social nonsense – thumbs up, followers and all that stuff that should have been left behind in high school.
What Timeless Fiber Designs does have is big, beautiful photos of each project; general information about each pattern or tutorial; information about the designer and where you can access or purchase their materials.
You can search for crochet or knitting projects. You can search by yarn weight. It's all indexed by project type. And, you can search for free and/or paid projects.
Wanna see more?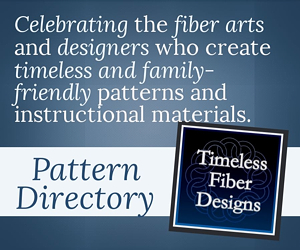 Check out
Timeless Fiber Designs where you can find a continually growing list of great Crochet Patterns and Knitting Patterns.
And, if you want to check out my contributions, be sure to check out my page there – Crochet Patterns by Michele.
If you design knitting and/or crocheting patterns, please check us out too. I'd love to share your work with everyone and help promote your website or blog. The more the merrier. Please be sure to check out our terms of service and the rules of the road before submitting your site.