I don't normally do this but I thought the situation warranted that an exception be made. If you've been around this blog longer than about 5 minutes, you know that I am also the owner of a site called Crafty Tips. Crafty Tips is a site that indexes and shares some of the best websites and businesses that offer free projects, patterns for sale and handmade finished items for sale.
Part of the challenge of running the site is keeping it from getting too overly broad. Some time ago I created the Art Photography category. The idea behind the category is to showcase photographers who specialize in taking photographs that are used as art as opposed to portraits and commercial images. I had hesitated doing so because I know there are multitudes of general photography websites and that there is at least one huge site similar to mine that exclusively catalogs photography-oriented websites.
So, why am I telling you all that? Well, one of my concerns was that every person who owned a site related to photography would submit to my site and that one category would grow out of proportion to the rest of the site. So far that hasn't happened, much to my great relief. I dreaded writing that email to someone with a wonderful photography site telling them that I was not going to accept their listing because it wasn't "arty" enough. Well, this week it finally happened.
Normally, I would have just deleted the listing and moved on. However, this photographer did take the time to submit a nice crafting tip – something 99+% of the off-topic submissions don't bother to do. That got me intrigued about his site, so I took a look. I also admit that I was hoping the site was really terrible which would make it so much easier to simply delete the submission and move on.
Your Photo Tips turned out to be an informative blog written by an "old pro" who writes in an engaging style that even those of us who don't know much more than how to 'point and shoot' can understand.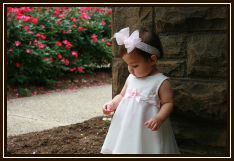 The articles that I have looked at so far are quite informative and cover such topics as:
Tips for Photographing Children
Using Angles to Create Perspective
Lighting Tips for Outdoor Photography
I guess you could say that this blog entry is my public apology to the site owner for turning down his site. I hope he doesn't mind that I used one of his pictures here (I would have done that with his listing anyway). Besides, who could resist this little cutie in such a pretty dress among the flowers on this Easter Sunday?
So, if you are in search of Photography Tips, you might just want to head over to this blog – and be prepared to learn something new – I did.
p.s. If anyone's interested in the tip that was submitted, here it is…When taking photographs of your children remember that they are smaller than you. Get down to their eye level and you'll avoid those pictures where the kid has a gigantic head.
p.s.s. Update: February 15, 2012…Your Photo Tips has become an ever larger wealth of photography goodness since I wrote this article. Now there 24 experts and 39 correspondents providing information on photography trends, showcasing top photos from around the world and sharing their greatest tips and tricks to taking stunning photos.

A few suggestions for further reading...