It was brought to my attention that I may have been neglecting the crafty side of Blog About Crafts. Ironically, it was not a crafter who reminded me but a fellow directory owner who rejected my blog for inclusion among the other Art blogs because most of my recent posts have been about SEO, marketing and reputation management.
My "day job" is working with business owners on all of those things. With new customers and loading as many pictures as possible on Reusable Art for crafters getting ready to make their Christmas fair products and gifts, I haven't had much time for crafting. Perhaps that's reflected a bit in my overall jittery and bored state of mind. Of course being virtually trapped at home as gasoline continues to be hard to find in this region has not helped much.
I did find this great little owl project the other day. The blogger who seems to be somewhat credited with starting what appears to have become something of a trend, Alexandra, got her idea from one of those great Japanese crafting books.
The basic pattern looked perfect to be translated into crochet – it was originally a really quick sewing project. Making the little guy from crochet stitches takes decidedly much longer than it does with a sewing machine and fabric but I hope many will agree my version is just as, if not more, cute than the original Japanese or modified sewn version.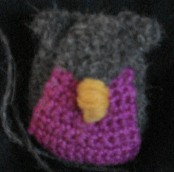 My prototype is currently eyeless but the eyes are almost ready to be sewn on so he will be able to see the big wide world soon
For those of you who would like a sneak peak, here's a picture in progress of what his eyes are going to look like. I'm not sure I'm entirely happy with them but after all this is just the prototype.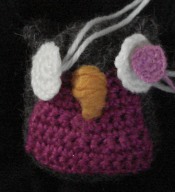 As you can see, I still need to make another pink iris for my owl and attach both completed eyes. I'm not sure I'm liking the stark whiteness against the dark gray and purple body and chest but it isn't all put together yet so hopefully the look I was going for will turn out well.
I do plan on developing a written pattern for this Japanese, Amigurimi-ish crochet owl in the future and will be adding that pattern to my free craft pattern site The Crafty Tipster. In the meantime, I hope my little owl, even in unfinished state made you smile or inspired you to try creating your own.

A few suggestions for further reading...