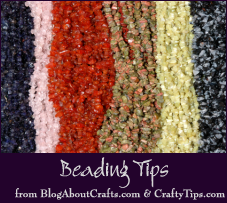 Looking for some free beading tips from some of the Internet's best beaders? You've come to one of the right places.
The beading and jewelry-related categories on Crafty Tips are quite popular and another great place to find great beading tips. Unfortunately, it is one of the most competitive areas in the crafting world and that also means that sites and shops seem to come and go fairly quickly. Sadly, I have to continuously remove the tips and the links to the sites who provided them.
The good news is that I'm not going to let all of those insightful and useful beading tips go to waste. They'll have a new home here. Do check back from time to time because I'll continue to add any future orphaned beading tips to this post.
Selecting Beads Tips

Bead Selection

Carefully select beads or gemstones for your jewelry – it really can make a big difference to how great your jewelry looks. Natural stones can vary dramatically in patterns and colors so you can really make something which looks unique if you choose your stones well.

---

Buying Gemstone Beads Tip

Customers like to know what kind of stones their jewelry is made out of, so be sure to ask bead shop owners what the names are if they aren't marked.
Buying Seed Beads Tips

Time Saving Seed Beading Tip

When working with seed beads, I prefer to buy them already strung (or by the hank).
That way I do not need to use a bead spinner or put them on the strand one at a time, I can just run my new stringing material through the beads and then take the old stringing material out. (this doesn't really apply to intricate type designs but is especially good for multiple strand seed bead type necklaces.)

---

Thrifty Seed Beading Tip

Regular seed beads are often irregular in size and may distort the design and shape of loom work or peyote stitch. But, they are an economical choice for beaded fringes where the beads are stacked!
Using Vintage Beads

Why Use Vintage Beads

Use vintage beads and jewels whenever possible – you'll be kind to the planet and create truly unique pieces.

---

Tip on Using Vintage Beads

If you have any old or purchase second-hand beads, sometimes you need to do more than just swipe with a cloth to get them clean. Use an old electric toothbrush and a drop of dish soap in warm water to get them looking like new.
Selection of Beading Wire or String

Wire Diameter

To select the best size wire for beading, choose the largest diameter wire possible that will comfortably pass through the smallest bead hole in your design.

---

Wire Stength

If you are new to beading, make sure you are using an appropriate flex wire strength for your stringing projects. Too many times beginners have come into the store, with broken project in hand, not realizing they needed a medium or heavy strength for their larger pendants and projects.
Gathering & Working With Small Beads

Picking Up Spilled Beads Tip

Gathering up spilled Beads: Simple! Just grab the vacuum cleaner and a pair of panty hose. Using one leg from the panty hose slide it over the nozzle end of the vacuum cleaner. The beads will suck up into the panty hose and Viola!

---

Gathering Up Small Beads Tip

When you need to pour those pesky little beads back into a container, use a small kitchen funnel, easily found in the dollar store. No spills! No mess! No waste!

---

Placing Small Beads

To pick up tiny beads and rhinestones roll the tip of a wood skewer in hot glue to form a tiny ball and let it dry. Use it to grab beads one by one to place them exactly where you want them.
Working with Beading Patterns Tip

Modifying Beading Patterns

Have fun with color, just because a pattern shows pink and blue beads doesn't mean you can't make your beaded item with green and purple beads.

---

Keeping Track of Your Place in Your Beading Pattern

Try using a reuseable sticker to mark where you're up to in a pattern you're following. I like to add it at the end of the section I've just finished.
Beaders Tips

When beading in a chair for more than an hour, try to have some type of stool for your feet. Having your feet in a downward position for too long can cause painful sensations, due to lack of proper circulation.

Also, shake your hands out every so often, at least once a hour. This will keep the circulation in your hands going, plus stave off carpal tunnel.
Bead Stringing Tips

Tip for Easier Bead Stringing

To easily string beads onto thread- simply cover about an inch of the end of the thread with superglue. Let it harden and start stringing!

---

Beading with Wire

When using beading wire, try using rubber earring backs to secure the ends. They are easy to remove and reposition, and they won't leave a sticky residue on your wire like tape would.

---

Protecting Your Thread While Beading

To prolong the life of your thread while beadweaving, snip off the end of the needle and file till blunt. This process helps you avoid catching and tearing the thread with the sharp end of the needle. Unless you are doing bead embroidery you don't need the piercing capability.

---

Tip on Stringing Small Beads

Use a damp q-tip to pick up small beads. They stick to the q-tip and make loading a needle much easier.

---

Separating Beads While Stringing

To create an inexpensive organizer for seed beads, use an ice cube tray. The compartments are great for separating colors while working on a project.
Money Saving Tip for Beaders

When you find you have an odd leftover bead or two, collect them in a box. When you have enough, take a keyring, a small lanyard hook and headpins and craft a keychain with your leftovers. These can be used to give as a free gift when someone places an order and they are very cute and inexpensive to make. Everyone likes to get an extra freebie!
Lapidary Tip

The only method for a lapidary to create matched gemstone pairs is to begin with a solid piece of gemstone mineral in rough form. There is no other way to create two matching slabs for jewelry designers. When cutting stones for a jewelry designer, bring in the designer to select shapes and focal points once you have cut the slabs. This allows the designer to best incorporate the natural colors and grains of the stones into their work and create a more beautiful piece.
Have any great lapidary or beading tips you would like to share? Own a shop, blog or website dedicated to beading or lapidary? Consider adding a great tip here or submitting your site along with your tip in the Lapidary and Beading Tips or the Jewelry Making Tips categories of Crafty Tips to receive free advertising for you site.

A few suggestions for further reading...