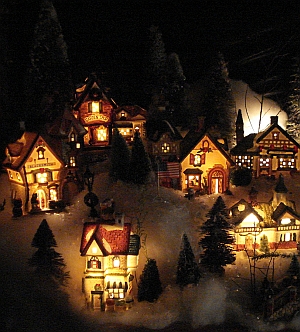 When it comes to decorating for Christmas, Mom's one of the best. Every room gets the royal treatment. But, I have to say that her Christmas village is one of her better efforts and I thought I would share some of her secrets on decorating a Christmas village this Thanksgiving-eve. Her biggest secret is mixing store-bought and natural Christmas village trees.
After a bit of encouragement from me, her Christmas village has a permanent home in her bedroom. Part of what makes it so lovely are the numerous Christmas village trees and natural materials she uses. Using trees that all look alike does not replicate our natural world and makes a Christmas village less attractive.
Lacking a flat table space large enough to display all of her houses, she set her village up in a shelving unit. The back was open, so she put black plastic across the back to create a night sky. She also used small boxes, paper back books and other items to create a mountainous landscape. We have the 'upper village' and the 'lower village' (the top and bottom shelves) and the 'central village' (the two middle shelves). Fortunately, the cats aren't too terribly interested in visiting her Christmas village but we have had a few big foot incidents where our kitties took a stroll through the central village.
Decorating her Christmas village became a virtual treasure hunt as we scoured thrift stores, after Christmas sales and our own imaginations for Christmas village trees, figurines and other things to decorate her village.
It didn't take long for us to realize that the more different sizes and shapes of Christmas trees we added to her village, the more natural-looking the display became.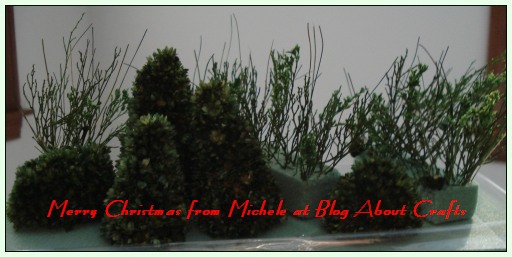 Long time readers of Blog About Crafts might remember my tutorial on making Christmas Village Trees. They are made with tiny, dried flowers, florist foam, glue and a whole lot of patience.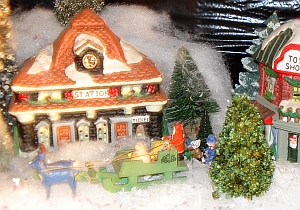 But, like the homemade Christmas tree in this picture, they make a natural and lovely decoration for the village train station and toy shop.
Another secret to decorating a Christmas village is to incorporate natural materials in the raw state. Simply adding small twigs here and there, you can replicate the bare-tree look of winter. If you look closely at the first picture in this post, you might notice the 'trees' by the right top and bottom corners of the picture. Those trees are simply small twigs stuck into the 'snow'/fiber-fill.
Some of the caspia from my homemade Christmas tree project was also added to the Christmas village landscape to create a more natural looking appearance.
Drape wispy pieces of the fiber fill on your Christmas village trees to create a more realistic winter landscape. You can also add a bit of sparkle to the snow with glitter and packaged fake snow.
The possibilities are virtually endless.

A few suggestions for further reading...