What can I say? I'm late this week. I had every intention of getting this post done early and here I am Friday morning afternoon only now finishing it up. But, don't let my tardiness in any way diminish your enthusiasm for the wonderful projects that are part of this week's Tutorial Thursday.
Try one or try all of this week's craft tutorials from the wonderful blogger who are participating on Crafty Tips Arts & Crafts Directory. Two of the craft projects have a Christmas theme but one of them could easily be modified to match any home decor or season. We also have a sewing crafty tutorial and a knitting project to round out this week's Tutorial Thursday.
---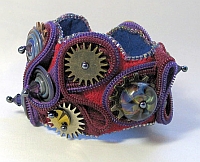 Blog About Crafts readers may remember this Paisley Zipper Cuff Bracelet from last week's edition of Featured Friday. Who would have thought that Hannah would share how she made this wonderful bracelet and provide a craft tutorial on how we can make our own?
Hannah doesn't have those beautiful lampworked disk beads she used in creating her bracelet but she does mention in the tutorial that she is willing to take custom orders for them.
Her Steampunk Zipper Lampwork Bead Bracelet Tutorial includes a number of wonderful finishing suggestions but my personal favorite is the one she used – seed bead picot stitch.
---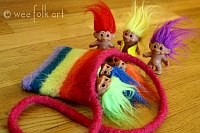 Colorful knitted and felted goodness often comes in small packages. This Little Treasures Rainbow Pouch is no exception.
Michelle had hoped this bag would have not felted quite as much but I can see there's at least one lucky little girl who's glad it did – it's the absolute perfect size to carry around her collection of trolls.
She provides a simple-looking knitting pattern to create your own troll pouch. Aren't the yarns she used so bright and vibrant! And, doesn't your little princess deserve such a pretty little pouch?
---

This week Emily over at Sweetly Scrapped Art is offering a trio of free blog headers.
She offers so many free vintage inspired goodies on her blog that include tags, printables, templates, scrapbook pages and too much more to list.
The three blog headers she has posted this week include the one you see here, a beautiful winter scene with a pair of birds on a branch and a village house, and one that combines the words of a fairy tale, a pair of buttons, a ribbon and a patterned medallion to create a spring-like banner that would look great on a sewing or arts and crafts blog.
---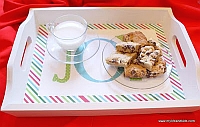 Anna, owner of the blog My Life and Kids, has three kids under the age of three, is a stay at home mom and still finds time to come up with clever crafty projects.
Earlier this week, Anna was also a guest poster on Mod Podge Rocks. And, as you can imagine her project used Amy's favorite crafting supply – Mod Podge.
Anna raided her scrapbook paper stash, took a pre-painted serving tray and created something worthy of setting out for Santa on Christmas Eve, a Joyful Mod Podge Holiday tray. And, lucky for all of us, she provided a wonderful tutorial on how she did it.
It sounds like Santa might have to visit her house early as Anna admits that the yummy looking cookies in this picture lasted only long enough for the photography session to be completed.
---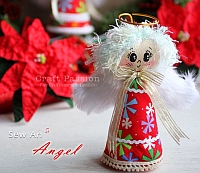 The folks over at Craft Passion have another great craft tutorial for us this week.
Sew an Angel is a charming little project that would also be a great way to use some of those little pieces of rick-rack that were too long to throw out but too short to really do anything with. (Please tell me I'm not the only one who saves bits of that stuff that are only a few inches long.)
Their angel tutorial comes complete with a printable pattern and a number of suggestions for alternative finishes and embellishments. She even shows how to paint the angel's cute little face. She used a small paint brush, the less artistic among us might find it easier to draw it on with a pencil first to ensure the dimensions are correct.
---

A few suggestions for further reading...