Hello everyone. Welcome to another weekly round up of craft tutorials from blogs and websites participating on Crafty Tips Arts & Crafts Directory.
If you are in a crafting mood, be sure to check out the great tutorials in this group. In a bit of a departure of the usual types of things featured in this weekly post, there's also a pair of posts that you should check out if you are looking for low-cost crafting and art supplies or are a fan of recycled art.
---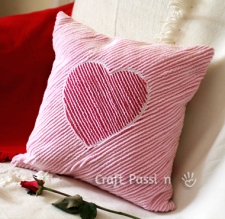 This craft tutorial from Craft Passion is like getting two tutorials in one.
The Heart Chenille Valentine Pillow craft tutorial will teach you how to make the project shown but also teaches how to create chenille fabric from several layers of flannel fabric.
If you've visited Craft Passion before, you might notice that it looks quite different. Joanne has recently given her site a facelift. I think it looks great.
And, after having recently revamped several of my blogs, I know how much time and effort it takes to get everything just right. Why not stop by and tell her how nice everything looks?
---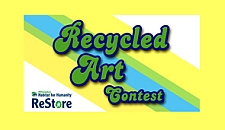 Two recent posts on MoiraCoon's Shinies caught my interest this week. Neither one is a craft tutorial but both offer great opportunities for crafters.
The first post is Milwaukee Restore 2012 Recycled Art Contest. This is such a cool opportunity for Milwaukee area crafters and artists. The premise is the project must be made entirely from finds within the Restore; adhesives are the only exception. Accepted submissions (I assume this is code for your project has to at least look like an honest attempt at art), will receive a $25 gift certificate for the store, compete for cash prizes (with a goodie basket also awarded to any winners under 15 years old) and their work will be featured in a silent auction. The best part of the auction is that every artist can decline the winning bid or accept it and will receive at least 80% of the purchase price (20% minimum goes to the Restore).
If you don't live in the Milwaukee area or even if you do, you might want to check out She's a scrappy gal, she is... That post contains a list of North American (US & Vancouver, Canada) places that offer clean, new recycled materials for artists, crafters and anyone else who can figure out what to do with the leftover bits and pieces from local manufacturers. I had heard rumors that there was such a place near me in Asheville, now thanks to her post, I know where to find TRASH and can't wait to explore it.
---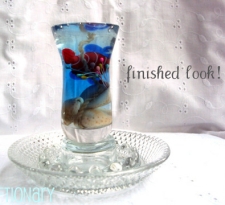 If you've ever wondered if was really easy to make gel wax candles, this craft tutorial from Craftionary just might convince you to give it a try.
Hani shares with us her first ever candle. She made it with gel wax and provides a number of suggestions and ideas to create your own.
It's a little hard to tell from the picture (I use a standard width that unfortunately made this project a little hard to see) but, Hani's candle has shells, fish and 'coral' embedded in the wax to turn this project from a purely functional project to one that could also serve as a bit of home decor.
---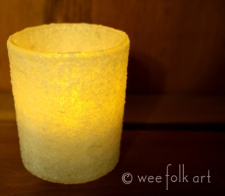 Turn that plain, and dare I say boring, glass votive holder into something special with this craft tutorial on how to use Kosher salt to make Candlemas Votive Holders.
The snowy and warm look of the finished project makes me think of a warm fire in the fireplace on a cold evening. As I sit here writing this, the weather forecast for this afternoon is for the temperature to rise once again to the mid sixties. This is supposed to be winter. The poor daffodils are blooming in places, our trees are budding and our flowering almond has a smattering of flowers. Kimara, who lives in Canada, had originally wanted to make snow candles but oddly enough, there hasn't been any snow by her either.
I guess if Mother Nature doesn't provide us with snow this year, we'll just have to make wonderful craft projects that remind us of the season.

A few suggestions for further reading...