And here we are, another week gone by. It's been a bit of a strange one. Here we are in the middle of winter and the weather has been running so warm and cold that we actually have daffodils growing in our yard and we saw a cluster of them in full bloom in our travels. Yesterday we had a thunderstorm that included marble and pea-sized hail. We had just seen one of the neighborhood children walk by the house coming home from school before the deluge began. Poor thing probably got hit pretty hard by both the rain and hail that fell. Had he been closer to our house we would have invited him in but he was out of sight when the storm started.
Speaking of storms, it would seem that the crafters on Crafty Tips are back in full production mode and crafting up a storm. There's just so many wonderful projects to choose from this week. There were more finished items showcased than tutorials but I have no doubt you'll agree that these 5 crafty tutorials will get your creative juices flowing.
---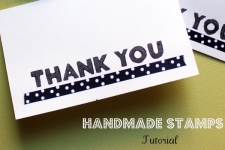 Hani finds some of the best folks to guest post on Craftionary; they make such wonderful things.
This week it's Michael Ann with a great tutorial on how to make your own stamps.
The best part of this project is that you create a stamp that you can keep forever or retain the acrylic mount to be used again by simply scraping off the foam board. I love any idea that helps keep the craft stash in order while helping to ensure you have what you need for your current project.
---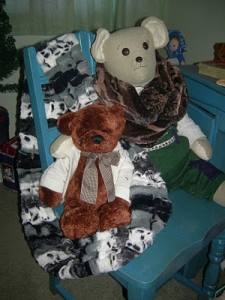 While she is waiting for the snow to come, Sandra made up a bunch of Infinity scarves.
They are such the rage right now and she shows how easy it is to turn fur fabric into a true winter fashion statement.
Her Infinity scarf pattern is fully explained and illustrated and will work with any fabric that you have on hand.
I love how they double as a necklace.
Sandra has quite a few pictures of the sewing process as well as pictures of herself and her daughter modeling the lovely scarves that she has already sewn.
What handsome models she has in these two charming fellows.
Love the gray, white and black fabric. It's animal print but more interesting than most animal prints due to the stripes. Doesn't it make a lovely scarf?
---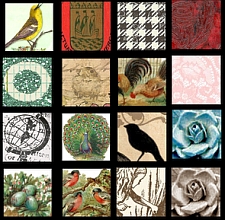 While I don't work with paper much in my crafting, I face some of the same dilemmas as the paper crafting artists do – what to do with those tiny bits of supplies that we have left over from a larger project that seem like they certainly could be used for something and are just too good to throw away. Sigh, thanks to Emily we now we have over 40 ideas for inchies to provide us with another excuse reason to keep all those little bits and pieces.
The projects she has found are so cool, that they just may have you transforming all of your leftover bits of paper into one inch squares. Don't blame me, I've warned you.
And, on the off chance that you don't already have a collection of inchies that haunt your crafting stash, Emily has designed 48 free printable inchies that you could use for any of the clever projects she has found from across the web.
---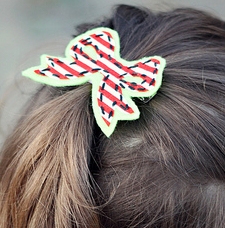 Cute and quick idea from Jessica – Silhouette Hair Bows.
Raid your printed fabric and felt stash for some scrap pieces of fabric. Find a bow shape that you like and you are ready to create these cute hair bows that would also make charming scrapbook embellishments.
Her craft tutorial is fully illustrated to the point of pretty much not needing any written instructions but she's gone ahead and included those as well.
I love how there's only one real pattern piece since the central printed fabric serves as a cut guide for the felt backing.
I also love how easy it would be to really run with this project idea and create your own unique bows by adding beads, ribbons and other embellishments.
---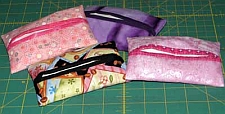 I've seen a lot of patterns for pocket tissue holders but this one is one of the most professional looking ones I've seen.
The interior fabric is cleverly wrapped around the exterior fabric at the opening and French seams keep all of the raw edges secure and hidden.
If you haven't visited before, Crafters Love Crafts is a fairly large site full of great crafting tutorials like this one.

A few suggestions for further reading...