I swore this week would be different. This week Craft Tutorial Thursday's post would actually be posted on Thursday. Well, here it is only 11:16 in the morning on Thursday and I'm getting ready to post this week's group of craft tutorials.
So rather than babble on about the fact that I finally am posting on time, let's look at the wonderful things people have made this week and are offering craft tutorials so that we can make our own versions.
---
Sandi is sharing a multi-part quilting tutorial on making what she calls Charlie's Snowman.
Inspired by a real-life snowman built by neighborhood children Michael and Charlie, this quilted wall hanging was made several years ago but Sandi is currently running a sew-along style tutorial on making your own.
Construction involves both traditional pieced quilting and applique techniques.
With a clever use of fusible tape, the lighter blue fabric is tacked to the darker blue fabric. The tape also adds a little protection against fraying.
Part of what I like about this craft tutorial is that you could easily put any central figure on your wall hanging. While Sandi's project has a snowman and tree, you could easily put a house, a deer, just a stand of trees or whatever your imagination could dream up.
---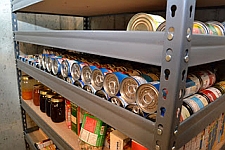 This craft tutorial doesn't involve fabric, beads, buttons or even paper. But, it is such a practical idea that I thought it would be great to share with everyone.
Bobbie's rolling shelves tutorial provides a great storage idea for those folks who either don't have a kitchen pantry or have one that does not meet their needs.
Her strategy of tilting the shelves to create a virtual dispenser for canned goods is sheer brilliance. An added benefit is that this set up makes it easy to to keep the older cans moving forward and ensuring they are used first.
---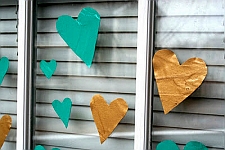 I'm beginning to wonder what can't you do with the Mod Podge series of products. Window clings? Yep, just ask Amy over on Mod Podge Rocks.
Learn how to make your own colorful window clings with this simple craft tutorial.
The best part is that you can make these in any color and in any shape – so they not only make great Valentine's Day decorations but you could make them for any holiday.
---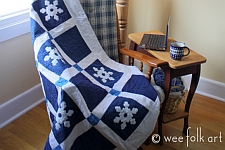 Freezer paper has been used as a quilting tool for years.
In her freezer paper snowflake stencil craft tutorial, Michelle teaches us how to use freezer paper to create a stencil that we can use to paint a design onto a quilt block. Doesn't her choice of white paint on a dark blue fabric make a striking quilt?
The technique also ensures that every snowflake is in the same place on each quilt square without having to fussy cut, measure or otherwise center the stencil.
---


First a bit of a disclaimer, I don't knit. I've never made a sweater and I don't know the difference between a knit, purl or stockinette stitch. But, I do know that some shapes are just harder to make in knitting than they are in crochet. (Before anyone who knits jumps on me, I freely admit that some things are easier to knit than crochet as well.) Apparently one of those tricky shapes are the shoulders of a sweater.
This knit sweater shoulder tutorial provides knitters with a solution to avoiding "stair steps" by using short rows. And, if you are rusty or new to making short rows, TechKnitter has a pair of tutorials to help you with that as well.

A few suggestions for further reading...