The first Craft Tutorial Thursday of the year and I can't wait to share with you the wonderful tutorials friends participating on Crafty Tips have posted this week.
As a reminder, to ensure that it's your great project being featured on Blog About Craft's Craft Tutorial Thursday, be sure to drop me a line by Wednesday evening to let me know about it. This is especially important for folks with sites that do not offer RSS feeds.
---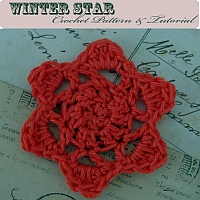 Hani first started Craftionary back in September of 2010. Since then, she has made hundreds of posts that showcase other crafters, their projects and many of her own craft tutorials.
This week, a guest blogger named Esther is sharing a wonderful tutorial to make this Crochet Winter Star. This six pointed star could also easily work as a crochet flower pattern as well.
The pattern is fully illustrated and very well explained so that even a newbie crocheter should have no problem with it. Esther has only been crocheting for about a year and taught herself from books and videos. She's come a long way in a short time and she is already designing patterns and exhibiting skills beyond her relatively short time working with the medium.
---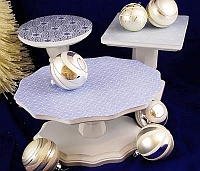 Amy has a great guest blogger this week. David recently left his "real job" to work on his crafting business full time. His Etsy shop is full of wonderful decoupaged items.
This project is for a trio of cake stands. The best part is that he designed them to be easy to store. Cake stands always look so lovely when in use but they take up so darn much space in the cabinets when waiting for the next baking session.
The only down side is that you will need a drill or drill press to make these but I'm sure there's someone who could help you out if you don't own one. Maybe bribe them with a bit of cake?
BTW, if you decorate the top and bottom, it's like having 6 cake stands for less than the price of one store bought one.
---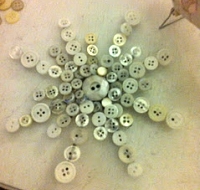 In case you haven't been over to her blog to visit lately, Jessica has this great series of craft tutorials for the 12 Days of Christmas.
Today I'm sharing with you Day 9's project – a lovely Button Snowflake Ornament.
Made with only coat hanger wire, buttons and glue chances are good that you already have everything you need to complete this wintery project.
The snowflake shown here is only half done, the buttons are glued onto both sides of the wire to complete the ornament. Like my recent stocking fiasco, Jessica forgot to take a picture of the finished project. sigh, I can so relate.
---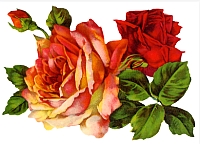 This week, Emily of Sweetly Scrapped Art has shared several free printables on her great blog. But of the group, I think the post with all of the French Labels and Roses has my favorites.
The group includes a number of lovely roses like the one shown here and a series of vintage cigar box labels where Emily has cut away the interior images so that they can be used in their original form or as frames.
This post also include a group of digi stamp add on's for your journals or scrapbooks.
---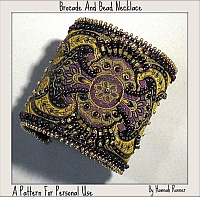 This week's Craft Tutorial Thursday wouldn't seem complete without a piece of jewelry. In this case, it's a wonderful Brocade Beaded Bracelet Tutorial from Hannah Rachel that's currently available on her Etsy shop.
The tutorial and pattern are available as a PDF file and includes all the instructions you will need to complete similar bracelets with your own materials. Included in the instructions are suggestions for alternate bead selection and the use of a focal bead but may not be suitable as a first beading project.
Hannah also offers complete kits to make a brocade bracelet in a variety of colors.

A few suggestions for further reading...