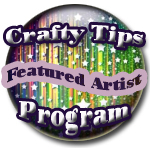 Temperatures in the 70s and 80s, thunderstorms and a stopped up kitchen drain all conspired to get me off schedule this week. It's so hard to stay tied to a computer when the unseasonably warm weather and bright sun call like a siren, luring me to do the wrong thing. Add a stopped up drain and the Chinese fire drill of cleaning and tidying up that goes with getting ready for a stranger to come to the house and well… Could I maybe just blame it on the Ides of March and let it go at that?
March Madness is in the air as well as all life in the southeastern United States seems to come to a standstill while a certain college basketball tournament is held. Yet again, no new episode of Revenge and no Person of Interest this week.
Thank goodness many of my friends participating on Crafty Tips have let neither the unusual weather or the lure of the tournament keep them from posting interesting and clever new craft tutorials.
There's just so much good stuff that everyone made this week that I hope you'll think the day's delay will be worth it.
---

Amy's posted several complete projects and great projects from other bloggers this week. This guest post is one of my favorites.

The vintage alphabet book shelf project comes from Walter Silva who has an Etsy shop full of collage and Mod Podge goodness. He's not on Crafty Tips, yet, but I hope he changes that in the near future.

---

Hani's been really busy this week. She's shared several great craft tutorials, but this one's my favorite. Just the idea of reusing those old prints and frames that can be found in just about every thrift store and making something new out of them is sheer genius.

Be sure to check out her burlap home wall art frames tutorial to learn how to cover pictures that no longer match your decor or are a bit too old-fashioned into something wonderful.

---

This week on Craft Passion, Joanne has shared a great craft tutorial to knit a loose and drapey top. Make a fashion statement with her knit top pattern that is perfect when you might need a little added warmth but not a true sweater.

---

If you've ever wanted to learn how to sew using a pattern, you might want to start with the craft tutorial Ilse has posted this week. She'll teach you how to read a sewing pattern with great illustrations like the one shown here.

This craft tutorial is the fourth in a series of 9 sewing pattern tutorials she is planning on sharing with everyone.

---

With St. Patrick's Day coming this weekend, you might be thinking of pots of gold waiting at the end of rainbows. OK, so maybe I'm the only one that daydreams of what I could do with a sudden windfall but this kid's craft tutorial might allow you to share a little magic of Irish folklore with your children.

She offers a great rainbow printable craft to make place cards for dinner on St. Patrick's Day or any other day you want a little sunshine and rainbows to be part of the festivities.

A few suggestions for further reading...