I'm not really one for resolutions. Too often they turn into lies we tell ourselves about how the coming year will be better than the last. I do hope to make and follow one this year though – to spend more time crafting. I've been so busy writing and working on my sites that I spend more time thinking about crafting than actually making anything.
A dear friend of mine lives in the Netherlands and this was the second Christmas that I sent him an American goodie box. Along with a variety of goodies and the much-loved Cheetos (who knew?), this year I wanted to include a little something handmade. I had picked up a bunch of different old-fashioned candies at Mass General Store (if you're ever in Western, NC, you should check them out) and what would be better than designing and crafting little stockings for each member of the family?
Christmas Felt Stockings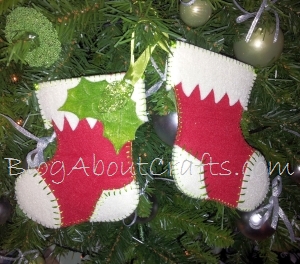 In my haste to send them off to Europe, the box was packed and we had returned home from the post office before I realized that I never took a picture of the finished stockings. Oops.
I knew the box would be late, seems to also be part of the tradition lol, so there was no hope of getting a crafting tutorial up before Christmas. Sadly, I used all of the red felt I had so I had no way of making any more.
The recipient hung the stockings on his Christmas tree and thankfully took a picture of two of them. And how cool is it that my stockings matched their tree so well?
In the coming days, I hope to put the tutorial and crafting pattern up on The Crafty Tipster.
I'll post an announcement here when I get that done.
New Crafting Addiction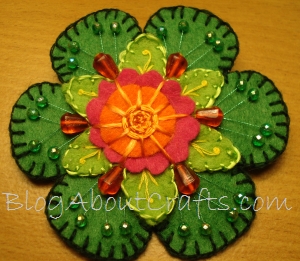 I absolutely loved working with the felt and all the hand-stitching. That got me inspired to create a felt pin. They seem to be so much the rage right now. With all of the felt, threads and beads I had in my stash it seemed like the perfect project for me.
I think I have a new addiction. The first clue was spending hours trolling Etsy looking at felt pins, die cut felt and other sorts of things I could turn into pins and use for my new crafting projects. Then there are all the flower and shape outlines to be found online and more beads, more threads, more great crafting supplies. Uh, oh, I'm in trouble. But, it should make my resolution to put aside more time for crafting easier to keep.
I had so much fun raiding my stash to make this. It would have been crazy expensive to buy everything just to make this one flower. I used two colors of new, shiny rayon floss that I picked up at a local thrift store for 50 cents a piece. (Sometimes living near knitting mills and weaving companies has great benefits if you're willing to buy commercial-sized cones of specialty threads and have a place to store them.) I used some green, metallic sewing thread that I bought years ago just because I wanted it and have never used for anything. The orange beads were a deep, deep, clearance item purchased from Fire Mountain at least 15 years ago. The green beads were a random hank I had picked up somewhere or other. The dark green felt and yellow thread are part of some discontinued Oriental Trading Christmas kits from our local Mighty Dollar. The other felt had been languishing in my stash for at least 10 years. And finally the dark green thread is some wool embroidery yarn I picked up somewhere in my travels.
Someone please tell me I'm not the only one with a stash big enough to supply a craft store.
Someone else please tell me that I'm not the only one who lets their imagination run away with visions of things to be made but never seems to fully act upon those dreams.
Anyone want to join me in resolving that 2012 will be filled with more crafting and less thinking about crafting?
And, if anyone feels so inclined, I'd love to know what you think of my stockings and pin.

A few suggestions for further reading...