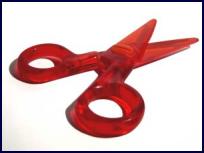 When it comes to finding great crafting tips, there may be no better place to look than Crafty Tips, my arts and crafts directory. Crafty Tips showcases some of the best artisans and crafters online and each has generously shared one of their favorite crafting tips.
After six years of sharing crafting tips, there's bound to be some websites that have been abandoned, discontinued or repurposed. That has left me with a growing collection of great tips that would be a shame to waste.
Since Blog About Crafts functions as the official blog for the Crafty Tips Arts & Crafts Directory, it only seemed to make sense to post what have become orphan tips here. The good news is that along with all of the great tips you can find here, you can also find more great crafting tips along with links to the sites who submitted them on Crafty Tips.
Crafting Tips for Inspiration
Sometimes it's the simplest ideas that provide the greatest inspiration for artists and crafters. These two crafting tips seem like no brainers but they really work.
Crafting Tip # 1

Sometimes, a project just isn't pulling together. Your fabric is bunching, your glitter isn't sticking, and for some reason, the whole thing looks upside down.

Walk away. take a breath, go for a walk. Come back when you are excited about your project and I bet everything will come out right.
This next crafting tip should perhaps be subtitled "Don't get too big for your britches."
Crafting Tip # 2:

You should surround yourself with crafters of a higher skill level than you, that way you remain humble and are always pushing yourself to new creative heights!
Crafting Tips All About Storage
I don't know what it is that happens to us but once crafters catch the bug one of the side effects seems to be accumulating more supplies than we have room for.
Crafting Tip #3

Keep all your crafting and sewing supplies easily accessible! That way when you have a few minutes to spare out of your busy life you can grab a few minutes of fun! I always feel a sense of accomplishment when I get to finish a project!
The following crafting tips offer some suggestions on how to combat the clutter but keep our treasured crafting supplies still accessible.
Crafting Tip #4

Take an old cereal box, cut the top off on a diagonal. Then wrap it in decorative paper, tape or glue it. Use it as a magazine stand/holder for all of your craft magazines!
This next great crafting tip does not have to be reserved for crafting materials, I use one as a jewelry box.
Crafting Tip #5

Did you know that an economical way to store all your small crafting materials is in a fishing tackle box? It's inexpensive, portable, and filled with perfect sized compartments to take with you to your next crafting party.
I hope these crafting tips inspire you. Please consider joining in the fun of sharing crafting ideas and websites by signing up on Crafty Tips. If you don't have a website but would like to participate, feel free to leave a comment on this post with your favorite crafting tip.

A few suggestions for further reading...