Such an interesting week of submissions on Crafty Tips. While the vast majority of submissions have absolutely nothing to do with Arts & Crafts, those that are on topic usually offer a eclectic mix of wonderful handmade items. This week's group includes a traditional Celtic weaver, a macrame lover and a crafty vacation destination in sunny Spain.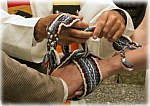 Niamh weaves lovely handfasting cords. Handfasting cords are woven bands used to literally 'tie the knot' and are used in weddings. The couple's hands are made fast with the woven cords to symbolize their joining in life. Niamh's site can be found in both the Weaving & Spinning and Wedding categories.
Speaking of the Wedding category on Crafty Tips. While conducting an audit of the wonderful sites listed in that category, I came to realize that there's crafters offering brides almost everything they need to have a beautiful wedding. Everything from handmade invitations, beaded floral bouquets, cake toppers and a pair of sites representing the wonderful traditions of Celtic and Jewish weddings.
A macrame lover is now one of the great blogs showcased in the Macrame Blogs category. She shares techniques, tips and examples of the fine macrame being made all over the world today – this ain't your mammas macrame with big ugly beads and elaborate plant hangers. Macrame artisans today are making sculptures, wall hangings and fine jewelry. Be sure to also check out the parent category, Macrame to see a wide variety of handmade items using this centuries old art of knot tying.
Need a getaway, but want to learn a new craft too? A Craft Vacation might be the perfect solution. The latest site to join this category offers crafters a beautiful setting in Spain to learn a wide variety of arts and crafts. The category also has another great crafting vacation destination in France. Ooh, la, lah!
Can't wait to see what wonderful new sites next week brings!

A few suggestions for further reading...