Blog About Crafts was launched to discuss the business side of crafting. But, it was also launched as a place for me to share with you another of my websites – Crafty Tips Arts & Crafts Directory.
Introducing Crafty Tips Arts & Crafts Directory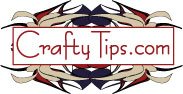 Crafty Tips Arts & Crafts Directory is a site dedicated to sharing and promoting many of the great arts and craft-related sites on the Internet.
One of the many things all website owners want is more traffic to their sites. One of the major aspects of getting traffic is search engine results. Getting other sites to link to ours is one of the biggest factors in search engine ranking. These links, called backlinks, are crucial to a site rising from the 500th page of the search engine results to the first.
Sites like Crafty Tips are called directories. Directories are sites that list other sites by category and typically also have a description of the site, maybe a thumbnail picture of the front page of the site and a link going to that site.
Most of us are familiar with phone books, directories follow the same concept – without the heavy costs associated with Yellow Pages advertising.
Like a phonebook, Crafty Tips is fully categorized. For example, a site that offers Purses, Handbags & Duffles for sale or have a tutorial on making one would submit to the category Purses, Handbags & Duffles.
Directories like Crafty Tips serve two purposes. The first is the most obvious one of backlinks to your site. The second is that some of the better directories also bring targeted web traffic to your site. That means Crafty Tips will send to your site people who are looking for the type of free projects or handmade items you are selling.
As an avid crafter and someone who has attended craft shows and fairs literally from coast to coast, I understand what crafters look for in a site. I recognize that great crafting websites are sometimes buried deep in the search engine results behind sites that offer very little worthwhile content but are heavily promoted. I understand how shops like Etsy work. I have build Crafty Tips to provide an opportunity for crafters regardless of the type of site they own to participate. Not all directories accept submissions from subdomains or shop sites – Crafty Tips will always welcome them.
What makes Crafty Tips unique?
There are a few excellent arts and crafts directories. At least one of them requires backlinks which virtually prohibits Etsians from participating.
Helping crafters build their business – that is something very important to me. I believe there is a long tradition of artisans creating a better life for their families with their talents and have created a site to help promote their businesses. (well, at least in my opinion – hopefully, it will become yours too.)
The concept behind Crafty Tips is the sharing of tips and techniques between crafters and artisans. Every time I have spoken with creative folks, the conversation always includes swapping ideas and tips. Just look at any arts and crafts-related forum and you'll see tons of posts where folks are sharing their secrets. In fact, it was one huge post on Knitting Tips and another that I started on Crochet Tips on Craftster that inspired what makes Crafty Tips so different from the other arts and crafts directories.
Directories often don't bring those who list on them much traffic. With category descriptions (something most of the others don't have) and the tips (something no one else has), my site is getting listed in Google, MSN, Yahoo and the others; and traffic is growing accordingly and bringing targeted visitors to the sites listed!
Instead of a grainy and teeny-tiny picture of the front page of your website, my site features a picture of one of your creations. I get to pick it – it's so much fun to see what everyone makes! But, you are given the option to request I use a different picture. (One crafter asked that I not list a particular item as they already have trouble keeping it in stock and would rather promote another one.)
Benefits of Participating in Crafty Tips
Many of the sites that existed before mine, created their lists of sites by hand. Since I am using a newer script designed for this purpose; sites also get the benefit of having a details page. While the details page doesn't list any additional information on a site, it does provide each site with a page that only links to theirs. Google and the others have already indexed many of these pages and have begun bringing even more traffic to some of the sites listed.
3 Links!
Another unique aspect of Crafty Tips is that I welcome up to 3 deeplinks from each site! This means if you sell crochet items, knitted hats, and soap – you could get topical links from each of those categories. Along with a second and third product picture, each of the additional links will have corresponding descriptions and tips.
The Catch
Well, that's just it; there isn't one. At this time, the price of getting up to 3 topical links to your site is simply submitting your site and writing a description and tip. How easy is that?
Greater Exposure for Your Website, Blog or Shop
There are several options to gain additional exposure for your site. They are not free, but they will make your site gain greater visibility and provide additional links to your site. More information about advertising options can be found on the site.
End of Commercial…
OK, now that I've gotten all that housekeeping out of the way, I can begin writing blogs about selling crafts online and in person.
Next time I'll discuss How to Make Your Craft Show Dollars Stretch Further.

A few suggestions for further reading...