In case you haven't already found it, there is this absolutely wonderful forum called Craftster.org. It is a great place to share ideas, patterns, and tales of the joys and frustrations of the business of crafting.
It is also home to some fun contests. Since a dear friend of mine gifted me with a digital camera this Christmas, I thought it was time to try my hand at the latest crochet challenge – to crochet something out of a material that is not typically used with crochet. (That means no yarn, thread or only non-jewelry using wire.)
Meet Penny the paper panda!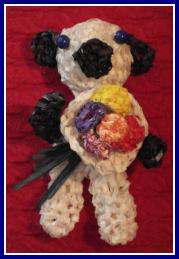 Paper?
Yes, Penny is made entirely from paper. Well, OK her eyes are beads, but everything else was crochet using paper. She stands a statuesque 3 1/2 inches tall and is holding her favorite crochet flowers with a red bow on her bouquet.
Upon hearing of this challenge, I went to my favorite store for crafty inspiration – actually a few stores before I figured out what to use. There it is was sitting over with some nasty crochet thread, this thin white paper streamer stuff. It looked perfect to crochet with!
We were visiting a new town, Seneca, SC (really nice town by the way) and of course we had to visit their thrift stores. Many of my best ideas have come from the stuffed animals and strange things you can find at them. Living in the Carolinas, where there are so many mills, has made trips to the thrift stores an adventure in restraint as there are often cones of great thread and yarn that have been donated by the mills.
Anyway, I found this white paper and thought why not? I played with it a bit and thought, hmm I can do this.
Crochet, with paper???
I must be nuts, surely there was an easier option than paper. It rips, it tears, it constantly slips off the needle and HELLO it's paper – it rips. I found myself holding my breathe each time I pulled the paper through to make each stitch – like that was going to somehow keep it from tearing. The hardest part was the decreases – it's not like you can pull paper extra tight.
Thinking it would be too boring to make something that was entirely white – even the abominable snowman has black feet and eyes; I debated tea staining, cool aid, and even beet juice. Then it dawned on me that I was still thinking I was working with yarn. Duh, markers for paper!
Dying my paper
Dying the paper turned out to be trickier than it first appeared. I needed the black to die all the way through the paper. The little art marker I started with simply wasn't up to the challenge. Black, why not use a Sharpie?
So, here I was in the middle of the night holding my breathe as I made each stitch and using a Sharpie and letting it bleed on my paper. It's a wonder I wasn't high as a kite. Wow, those things smell when you use them for a while.
Of course, my fingertips were now almost as black as my paper. Good thing I had that trashy novel laying around to wipe my fingers on. 😉
Get Stuffed
Keeping in the mood of craftiness and thriftyness, Penny's head is stuffed with a section of a Dollar Store bag. It took me a while to come up with that – I wanted to keep to the spirit of the challenge and not use fiberfill. The dollar store bag seemed almost poetic as I chopped and hacked at it to get enough of the plain, unmarked section of the bag to fill Penny's head.
Tiny paper not small enough?
Ah, but then the ears, nose, and arms were too big. What to do, what to do? Simple, cut the already tiny paper ribbon stuff in half. Now I know I must be certifiable – maybe the Sharpie fumes had gotten to me after all.
I cut this teeny tiny paper down the length and made it even smaller and more fragile. After a few false starts (that means the paper ripped before I even made 2 stitches), I got the smaller parts made up. The nose was the hardest. Hardest to shape and hardest to attach. Again I made this harder than it had to be by sticking to theme and not sewing it on with thread or using glue. Very carefully I wove the nose onto the body with a strip of split paper.
I can't see
Poor Penny was eyeless for 2 days while I figured out how to do them. I tried the split paper – way too big. I tried some curling ribbon crocheted into circles, even split, that was also too big. Buttons? Too big. In desperation I raided my bead stash and finally found a match. Ah, but then how to attach them. OK, don't tell anyone, I sewed them on with needle and thread. This whole non-traditional materials concept can only go so far.
Hey Carol, look, my first two pictures!
So, long story short, my Crochet Challenge entry is made of paper. Here's a picture of Penny along with the supplies I used to make her.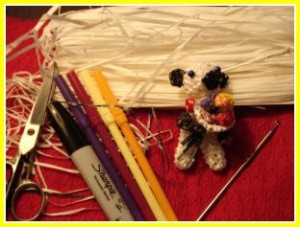 A few suggestions for further reading...