A few days before my birthday last month, I received an email from a representative of the Quality Glass Block and Window Company. They wanted to know if I would be interested in receiving a sample of their craft blocks and be willing to write a review about their product. The only stipulation from them was that they wanted me to write my review within 30 days of receiving their product. They said that I was free to say whatever I honestly thought about their product. So, with that written promise, I agreed to the deal.
A few weeks later, the UPS truck was in our driveway and I had my 6″ x 6″ x 3″ Genuine Pittsburgh Corning Glass Icescapes Glass Block.
DecoBlocs are offered in two styles and two sizes. Their Decora block is the more traditional wavy design that you may have seen in glass blocks used in construction applications. Their Icescapes Glass Block has a more crackled effect designed to make it a better choice if you plan on lighting your block. Both blocks are available in 6″ x 6″ x 3″ and 8″ x 8″ x 3″ sizes.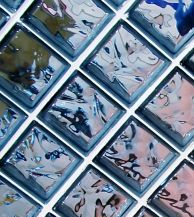 We've all seen those glass blocks that are designed for creating opaque windows, room dividers and all sorts of super cool architectural functions.
I love the way they reflect color and light and allow light through but provide a bit of privacy. It's no wonder folks started drilling holes into them to create lighted crafts, terrariums, vases and all sorts of wonderful things.
Glass block crafting originally required drilling your own hole. Drilling a hole into thick glass was not something high on my bucket list and neither is picking near invisible little daggers of glass scrapings out of my clothing. I thought lit glass blocks were cool but not cool enough for me to risk mixing power tools and glass.
The folks who made glass blocks for commercial applications saw a new market emerging and started offering blocks with pre-drilled holes for crafters.
Glass Blocks for Crafting
I did a little research before I received my DecoBloc Icescapes Glass Block for Crafting.
There are several companies offering glass blocks designed with crafters in mind. Price-wise, they all seem to average around $10 per block. (The larger size offered by Quality Glass Block and Window company is available for $11.19 on their site.)
For the sake of this post, I'm going to assume that the glass quality between the different blocks being offered is fairly consistent. It's probably not, but I'm not willing to do that level of research and it would probably not really matter that much for crafting purposes if the blocks had slightly different thicknesses and quality of glass.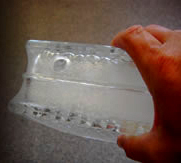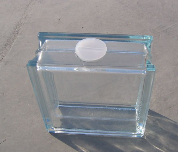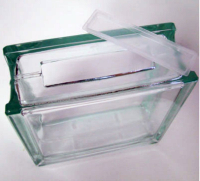 Some blocks are offered with smooth glass and others have wavy glass. All of the craft glass blocks are only offered in clear glass. However, Quality Glass Block and Windows does offer tinted glass blocks for construction applications.
What I did see among the available glass blocks was that the holes were vastly different. The holes varied from tiny to fairly good size. One seemed quite small, the second provided slightly more options and the third is big enough to place fairly good sized objects within the block. I don't know who makes which one and my sincere apologies to the photographers from whom I 'borrowed' these photos from.
I knew the DecoBlocs had inserts of some kind but I couldn't find a picture of them before I received mine.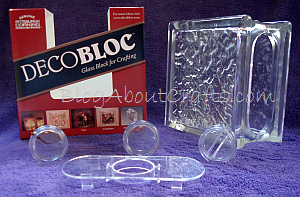 DecoBloc Glass Block for Crafting
The DecoBloc is much more crafter friendly.
Their hole is fairly large – virtually as big as one of the sides.
It comes with a snap-in plastic insert that holds one of three rubber inserts or caps that are included with the block.
As you can hopefully see from the photo, it comes with a solid cap (center), a cord-friendly cap (right) and a cap designed to use your block as a bank (left).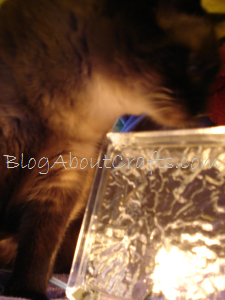 Tali couldn't resist checking out what I was doing. She managed to get herself into the picture – if she were a boy, we would probably have named her Curious George.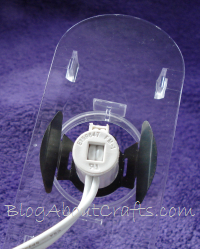 That photo also shows the glass block with a single light inside. The IceScape block I received does do a fairly good job of camouflaging the light source. (I've never liked the lit blocks where you could see the tangle of cord through the glass.) I used one of those light cords from a Christmas house that has a single bulb.
Whether by design or coincidence, the metal clip on the cord fits in the plastic insert that came with the block perfectly. The plastic insert snaps in place but is easy to remove so you could change whatever you put into the block or switch caps easily.
I'm still trying to figure out exactly what I'm going to do with my block. I did create a bit of magic with Mod Podge and food coloring and I think it made the block absolutely gorgeous. It also helps to hide the light source even further.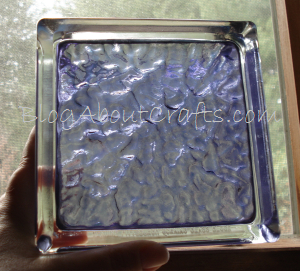 I've provided a tutorial over on The Crafty Tipster in a post called Coloring a Glass Block.
Overall, I'm not sure what I can say; it's a glass block. The DecoBloc would seem to provide a much larger and functional opening than the competition. Having three different caps provides crafters with a wide range of crafting options.
I would suggest to the folks at Quality Glass Block and Window Company that they might consider offering a stand of some kind (only one company seems to offer them) for their DecoBloc Glass Blocks for Crafting. My second suggestion would be to offer them in a smooth glass version. Their project page looks like there's a smooth one available but both of the product pictures and descriptions would indicate both models have textured glass on the inside of the block. With the current popularity of moss gardens and terrariums, I would think a smooth glass block would make a perfect home for some gnomes, mushrooms, moss and small plants.
I enjoyed playing with my DecoBloc and truly appreciate being chosen to participate in their current promotion. Again, I was free to say anything I wanted to about the DecoBloc Glass Block for Crafting by Quality Glass Block Company and the only compensation I received was the block itself. Both styles and sizes of blocks are available for sale directly on their website or in selected arts and crafts stores.

A few suggestions for further reading...