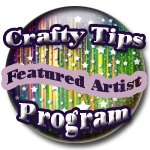 Friday's almost over but you're still in time to check out this week's Fabulous Friday's list of new items posted for sale by artisans and crafters from those participating in Crafty Tips.
It's only the first week of this new joint feature between Crafty Tips and Blog About Crafts but I'm sure you'll agree that the 5 talented folks I'm showcasing this week are truly wonderful designers and artisans. Do check out their sites as they provide a treat for the eyes and you just might find the perfect gift for yourself or for someone special in your life.

| | |
| --- | --- |
| | I absolutely love Tessa Ann's buttons. They run from the beautifully simple to the beautiful and intricately designed. From a rainbow of colors, shapes and sizes to seasonal buttons like this cardinal set, there's bound to be something to match your own creations or to update an existing piece. |
| | Pauline is one of my favorite stuffed toy designers. I remember when she primarily focused on designing animals from her native Australia. How fun that she's now expanded to Africa, pet toys, dolls and even fun and funky monsters.This lion comes as a complete kit or downloadable pattern and looks like he would be so much fun to make! |
| | KnotGypsy has been creating some of the most beautiful micro macrame jewelry for years. She now shares her designs in the form of complete kits in her Etsy shop. This is just one of her more recent designs and all of her designs come in a huge variety of color choices. If you've ever wanted to make your own beautiful beaded jewelry, KnotGypsy is a great place to start. |
| | Victorian style meets modern eco-fashion in this charming capelet offered by Windy Hill. The warm and fuzzy fabric is made from recycled materials and the pattern is based on an authentic Victorian pattern. Who says you can't have it all? Warm, stylish and eco-friendly too! |
| | Kay is a wonderfully talented Canadian fiber artist who specializes in needle-felted animal portrait sculptures. She is able to capture the spirit and personality of each pet, making it sometimes quite difficult to tell the difference between the photograph of her sculpture and the original photograph of the pet being represented. Features, like the tiny nose on this cute dog, are also custom made by Kay using polymer clay. |

A few suggestions for further reading...