It was bound to happen – a Featured Friday post that celebrates the many talented jewelry artists participating in Crafty Tips and selling their pieces from their Etsy shops. While the pieces I'm featuring today do have those two things in common, the similarities firmly end there.
From a pair of delicate earrings to hand cut and polished gemstones to a steampunk bracelet complete with rifle casings, my feed reader has seemed more like a jewelry store circular than a compilation of posts. Of course, I doubt there's too many jewelry stores that provide the huge array of styles, techniques and artisans that can be found on Etsy.
I'm sure you'll agree that the jewelry artists featured today are making a wonderful array of items that you should really check out for yourself.
---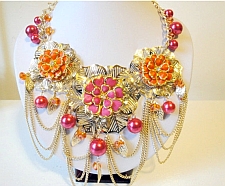 Fashion designer Keishell designs for fashionistas who love being the center of attention.
This colorful statement necklace sure meets that goal.
This Valentine's Day Statement Necklace combines vintage and modern looks to make your outfit a real show stopper.
The piece features fold flowers, red and orange hearts and red and orange beads. The draped gold chains add a delicate touch that really completes this statement necklace.
---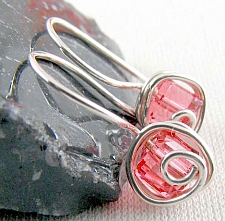 Sterling silver wire and padparadsha Swarovski crystals are the stars of these dainty and shimmery earrings by Michele Delp.
Michele makes a variety of jewelry but admits that she favors earrings. Her current Etsy shop listings do tend to include more earrings than necklaces, anklets, bracelets and rings but she has a lovely selection of those as well.
These sterling silver and crystal earrings combine just the right amount of wire wrapping to provide an interesting setting for the crystal beads without overwhelming the beads.
They are small enough for day-time wear and sophisticated enough for evening or formal wear. And, what a fun coincidence that the bead colors appear to almost perfectly match Keishell's necklace.
---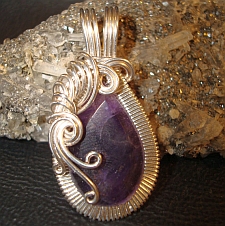 Sometimes it's not what you know or even who you know but where you happen to live that makes all the difference. A chance meeting with a rockhound and the discovery of Lake Superior agates in her backyard were all this former casino worked needed to begin her journey into a new career and the discovery of her talent as a lapidarist and jewelry artisan.
While this beautiful amethyst and silver pendant is not made from one of her Lake Superior agates, this piece is a lovely example of the artistry and quality of her work. (OK, can I just admit that I love amethyst and we'll leave it at that.) Like most of her pieces, this stone was cut from the rough and securely wrapped to ensure a lifetime of enjoyment for the lucky recipient of this piece. The stone is 7/8 by 5/8 inches and is adorned with sterling silver filled and sterling silver wires to create a pendant that is 1.5 inches tall.
By the way, if you are not familiar with Lake Superior agates, they are generally brown to tannish stones with lighter colors of banding. They are quite beautiful after they have been cut and polished and this jewelry artist turns them into absolutely beautiful jewelry.
---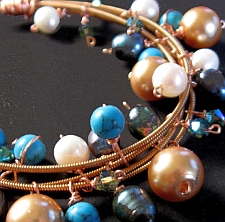 Nina calls herself The Frugal Artist. Her pieces are both pretty and cheap but the focus here is truly on the pretty.
She tries to use recycled materials and is particularly adept at turning used guitar strings into beautiful jewelry like this blue and gold guitar string bracelet.
The guitar wire is made from bronze and has been loosely strung with honey gold glass pearls, pure white freshwater pearls, turquoise beads and teal crystals. Nina made the clasp from copper, added a copper extender chain and attached the beads to the wire with copper wire bails.
Nina has also begun adding accessories and cards (pressed flower and collage).
---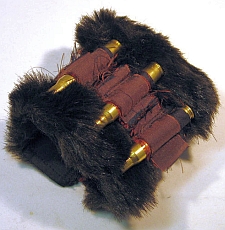 Not into girly pretty stuff? This fake fur and rifle casing bracelet might be just the piece for you.
Hannah has been featured on Blog About Crafts before but there's something very different about this piece. I could so see the tough Russian heroine in a vintage movie wearing this steampunk bracelet to keep her ammunition handy. The good news is you don't need to be a cold-war era heroine to sport this piece.
Made from rifle casings, fake fur and shredded Thai silk, this bracelet is 4.5 inches wide and fits an 8.5 inch wrist. (As an aside – yay for Hannah on making something for gals with larger wrists!!!) She does, however, also offer a number of steampunk pieces in smaller sizes as well. There are a number of steampunk pieces currently in her shop that sport Thai silk but this is the only one adorned with rifle casings.

A few suggestions for further reading...