Friday the 13th. Just saying Friday the 13th out loud makes me giggle with the silliness of how we humans can sometime arbitrarily declare a number or day of the week somehow ominous. I consider this day of bad luck to be filled with the good luck. I have met so many wonderful artists through Blog About Crafts and Crafty Tips and so enjoy sharing the wonderful things they are creating.
I had this post all written and then Mom said dinner was ready. And then we watched, Kitchen Nightmares (finally one where the owner at least kept the kitchen and dining room clean) and then we watched an episode of Chopped and then I went to bed with a good book. Yes, today is now Saturday. sigh. I'm late. Again. Sorry everyone.
---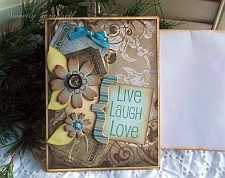 Not only does Emily give us so many wonderful free printables on her blog, she also offers many great things in her Etsy shop. Regular readers of Blog About Crafts may have seen her work several times on my Craft Tutorial Thursday series but this is the first time her work has been showcased on Featured Artist Friday – I hope she accepts my apologies for waiting so long to acknowledge her lovely handmade items.
Her gift tags, stationary and other handmade items would make great embellishments for your scrapbook and other crafting projects.
Along with her wonderful printed tags and embellishments, she also offers finished items like this lovely Live, Love, Laugh Card.
---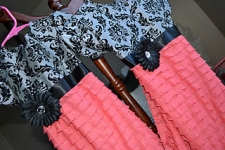 Two lovely dresses for two pretty little girls.
Their mom Bobbie had intended them to be Christmas dresses but time got away from her and they turned into awesome New Year Dresses.
She shares what pattern she used as well as another photo of her two pretty girls modeling their new dresses. What lucky girls indeed to have Mom who sews them clothing that looks as pretty, or even prettier, than store bought clothes.
---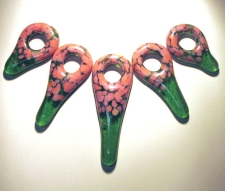 It's virtually guaranteed that when visiting Hannah Rosner's Etsy shop you will find something unique and beautiful.
This week she has posted several sets of tribal necklace beads.
I'm not sure which ones I like most so I took the easy way out and included the set she calls Everybody Loves the Circus Pate-de-verre Bead Set simply because it was the last set she listed for sale.
Each of the beads are made from German glass and are individually made. The measure approximately 1 inch in width and range from 1.5 to 2.5 inches long. The bead sets come with 4 or 5 pieces and all are the same size thought the shaping varies slightly.
---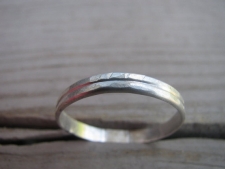 People requested she make some jewelry for men and this lovely hammered sterling silver ring is the first men's piece she is offering.
The ring is currently a size 13 but Elizabeth can make it into any size upon request and she is also offering to modify the finish if you would prefer a more textured look.
I love Elizabeth's work, it's so distinctive. I like the daintiness of so many of her pieces and even though this is a man's ring it still retains some of that daintiness without being feminine.
---

A few suggestions for further reading...