So much crafty goodness, so little space to share it all with you.
Featured Artist Friday often includes a number of talented Etsians. This week, I have ended up creating my own mini Etsy Treasury with 5 wonderful items that have been posted for sale on shops that are participating on Crafty Tips. I'm sure you'll agree that the shops in this list belong in everyone's favorites and bookmark lists.
---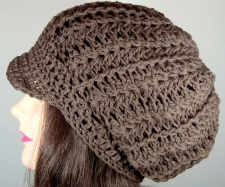 Mel has been crocheting for over 25 years. She started out by making hats for her Strawberry Shortcake dolls.
Today she's making hats for the rest of us and offering them for sale on Etsy. This week she posted this Cabled Newsboy hat. The yarn is a blend of cotton and Moreno wool – so it will be toasty warm with a bit of stretch.
Even better, there's no time like the present to pick up one of her lovely hats – she's put them on sale for 25% off. And, you might want to act fast, she hasn't posted when the sale will be over, so don't delay if you are looking for a stylish new crochet hat.
---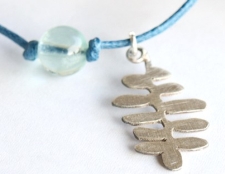 Natascha is offering another lovely piece of silver jewelry in her Etsy shop this week.
She added her Sterling Silver Dream Leaf Necklace to her shop on January 18th. The silk-finished leaf pendent is joined with a rainbow fluorite stone on a waxed blue cotton cord.
This necklace may not be for everyone as the cord is only 14.9 inches long. But, I can't imagine if you convo'ed her that she wouldn't make you a similar one with a longer necklace cord.
---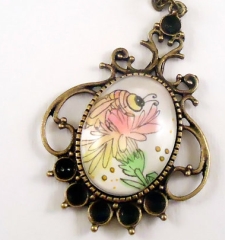 Jennifer O'Toole offers such a unique product – jewelry that's truly wearable art.
I know, I said that about her jewelry the last time I included one of her pieces on Featured Artist Friday but it is the best way to describe her handcrafted and hand-painted jewelry.
The item I've featured this week is one of her charming, original watercolors is preserved under glass and turned into a beautiful cabochon style pendent – a whimsical bee painting and pendent. I think of all the settings I've seen her use, this is one of the prettiest.
No, she doesn't use prints, vintage graphics or other duplicated images for her art jewelry. Each one of her art pendents contains an original watercolor painting.
She has added over 60 new pieces to her shop this week. So there's tons of her original necklaces, rings and wearable paintings to choose from.
---
With almost 2,000 sales, this Etsy shop owner sure must be doing something right. Kat has figured out what paper crafters need and has been providing it since 2008.
This cute trio of Die Cut and Paper Pieced Owls is one of my favorite offerings. Amid her wonderful die cuts of mouse ears, labels she offers these owl embellishments.
If owls aren't your thing, maybe you would like her die cut crabs, butterflies, leaves, snowflakes, hearts, gift tags, scallops or cup cake holders. Please forgive me Kat if I've missed anything – you offer so much great stuff.
---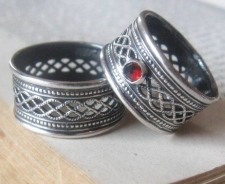 You'll not find a wedding set like this at your local jeweler.
Handcrafted in Kentucky, this Renaissance Wedding Set will be custom made to your size. It will either include a 4mm rose cut dark cranberry garnet gemstone (shown) or another rose cut stone of your choice.
The set of rings are made entirely of silver and have a Renaissance style featuring cut-work and small beads in the silver.
Be sure to check out the rest of her Etsy shop to view her other wonderful silver pieces. She has a number of engagement rings, fashion rings, necklaces, pins and earrings in her shop as well as a variety of other wedding sets.

A few suggestions for further reading...