What do all of the projects in this week's Featured Artist Friday have in common – needle and thread. Every project in the group required the use of needles and thread to construct. But, that's where the similarities end. From a dramatic beaded necklace to a bit of bling for your home, there's just so much stitching talent on display this week.
Three of the items are available on Etsy so if you think you might like to own one or more of them, you better act fast before someone beats you to them.
---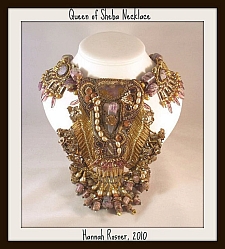 I can't even begin to imagine how much time, effort and skill went into making this piece. And to think it wasn't made for a commission but for an Etsy Beadweavers group challenge.
Hannah's Queen of Sheba Beaded & Embroidered Necklace looks like something that belongs in a museum case. It's bold, it's dramatic and it is obviously one of a kind.
Whomever is lucky enough to purchase this piece will be able to stop traffic with this large and dramatic piece.
Visit her shop to learn what beads she used in its construction and how you can make this true fashion statement yours. And be sure to check out the other works of beaded art in her shop or purchase one of her tutorials to make your own.
---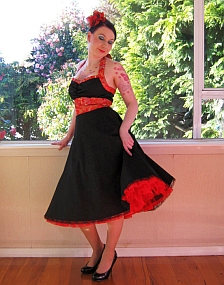 Don't let the name of her shop fool you. There's nothing small or made with pockets in her shop. But, what you will find is a beautiful selection of custom made pin up, rockabilly and fairy dresses.
Stitched from her own designs in the size of your choice (even plus sizes!), they often come with their own matching petticoats.
This New Zealand seamstress and fashion designer has been sewing since she was only 10 years old. She began selling her fashions at only 15. Since then she has offered three different lines of clothing including her latest fashions under the name Pixie Pocket.
She offers a selection of party dresses, cocktail dresses and wedding dresses. All of them are custom made to fit and all of them are absolutely fabulous!
Let this fashion designer and self-described pixie adorn you with a bit of her magic.
---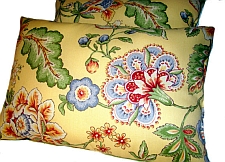 This featured artist specializes in making bling for your home. This pair of of fashion pillows will perk up any room – indoors or out. Made from outdoor fabrics, these pillows are serged and double stitched with fade resistant fabric.
Linda has been designing items for over 30 years and offers a wide selection of decorator items. She specializes in pillows, embroidered towels, window treatments and wall art.
---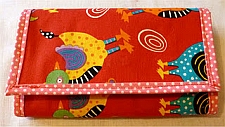 Alas, this final project for Featured Artist Friday is not for sale and there sounds like there will be no tutorial to come. But, Christine's perseverance, some really cool and funky chicken and feathers fabric and what looks like the most functional little wallets I've seen in a long time make this project one I wanted to share with all of you.
They say the third time's the charm and this project truly lived up to that old adage. Be sure to visit her blog to check out this multi-compartment wallet (two zippered compartments, card slots and three additional compartments).
While she doesn't include a full tutorial, she does include several of her in-progress pictures to give you an idea of how she constructed the wallet. If you are looking for a tutorial though, she does offer several free wallet patterns on her site. Maybe you could make your own version by combining the two.
---
Be sure to visit Blog About Crafts next Friday to see what wonderful things the folks participating on Crafty Tips have made during the week!

A few suggestions for further reading...