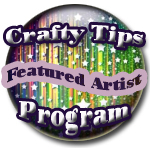 It seems here lately that Featured Artist Friday has primarily been showcasing completed pieces being offered for sale. This week I thought I would do something a little different and showcase those Crafty Tips participants who posted items they have completed but are not making available for purchase.
A number of these talented folks offer a number of wonderful things for sale but the handcrafted items featured today are a celebration of their creativity and skills rather than an invitation to purchase their handmade and painted items.
March 18, 2012 – Our stopped up sink turned into something quite unexpected on Friday – a semi-panicked call to 911. It wasn't the first time our household had to dial those three numbers but it was the first time I was doing the talking. We've lived here for over 8 years and in the chaos, I almost gave them our old address. Not like me at all. I knew it was wrong before I even said it, so the wrong number never left my lips. But, it did surprise me that the first house number that jumped into my head was a previous address. Everyone's fine, thank goodness for not-so-small miracles, but I hope you'll forgive me for the shortness of this post and it's lateness.
---

Elizabeth Perry shares a sketch a day on her drawing blog. Among this week's pieces, Daffodils really caught my eye.

Some of Elizabeth's drawings are line drawings like this one and others combine pen, ink and pigment to bring to life an object from her daily life.

This month marks the 10th year that she has been sharing her art with us. I hope she continues for another 10 years!

---

Inspired by a quotation from William Blake's Auguries of Innocence, Kate shared with us her mixed media art project.

Using a number of bits of projects she had lingering undone in her workspace, she created this art canvas in teal tones that makes use of a number of techniques. She's even taken the time to post the links to several tutorials on how to duplicate the techniques she used.

Can I just say that I'm in awe how she put together this piece?

---

I love Tara's work. She takes so many different things and layers them together to create truly awesome scrapbook layouts like this one entitled Just Darling. And, you don't have to take my word for it about how talented she is. Graphic 45 holds auditions each year to be a member of their Design Team. After several rounds of competition, Tara was chosen again this year to be on their team and as a result gets to play with many of their beautiful papers and embellishments.

Her blog is full of inspiration, with projects using Graphic 45 items and a number of other well-known paper crafts suppliers.

A few suggestions for further reading...