Clever craftiness is on display in full measure this week's edition of Featured Friday. Paper crafts, sewing and resin jewelry are showcased this week. Some are available for purchase and some aren't but they are all worthy of a closer look.
Don't forget to check out their wonderful Etsy shops and blogs to admire these projects and the many others they are creating.
---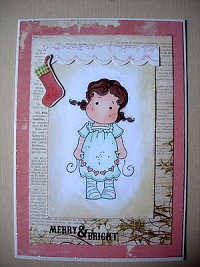 Kate is having herself a bit of a Tilda Christmas with this cute and clever Christmas card.
Using her Sweet Christmas Ribbon Tilda stamp, Copics, some Christmas paper and some Cosmo Cricket she has made this charming Christmas card.
Kate's lovely creations have been seen in a number of Papercraft Essentials, Simply Cards and Papercraft, Craft Stamper and other magazines.
She is continually participating in design challenges and has won a number of them.
She has been on a number of design teams and her blog is virtually guaranteed to have plenty of eye candy and inspiration. Anyone who loves working with paper should definitely bookmark her site and visit frequently to see all of her lovely cards, tags and scrapbook pages.
Don't'cha just wish you were on her Christmas card list?
---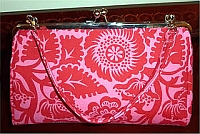 When Christine gets inspired she creates. And when she creates, it's usually something really cool. This week the inspiration comes from Grace Kelly. Oh, there was so much about that fine lady to inspire us all. In this case it was her sense of fashion in the form of the "Kelly" bag.
This is one of those projects that looks so well-made that it would be doubtful that someone would walk up to her and ask "Gee, did you make that?" Of course, anyone who knows Christine in the real world might ask that question anyway since they must know that she makes such lovely things.
---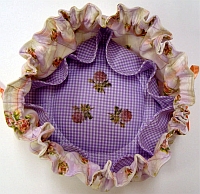 Ann of Greenwillow Crafts make many lovely things in her workshop. But, it's her jewelery pouches with 8 and 16 interior pockets that she's known for.
This lovely gem is one of her 16 pocket Jewelry Travel Pouches.
Ann remembers making doll clothes from cloth scraps and learning to sew from her mother and grandmother. Now retired, Ann is passing along the family tradition to her granddaughters, who often are making their own creations makes the lovely items she sells in her Etsy shop.
Right now, Greenwillow Crafts also has a nice selection of handmade Christmas stockings, notecards and art photography prints.
---
Mick Cluley is the purveyor of keepsake jewelry with a twist. He casts fur, feathers and whatever else his clients wish to keep forever, in resin to create some of the most interesting pieces of jewelry you're likely to see.
His Horse Hair Bangle is ingeniously designed to showcase a few stands of a pony's tail hairs to create a keepsake honoring a treasured friend.
With Mick's jewelry, it's about how he places the keepsakes in the resin that really makes his pieces special. When you see them, you see a piece of jewelry first, a keepsake second and wonder what special something he could preserve for you.
---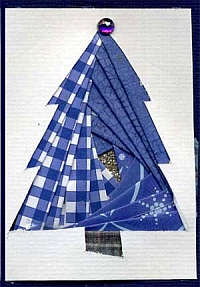 'I' is for Iris, as in Iris folding, the technique used to create this wonderful artist trading card.
June Campbell, the creative artist behind Scrapping by Design made this Christmas ATC using iris folding to create a folded tree.
June created this lovely ATC as part of a monthly technique swap where a group of paper crafters exchange items with each other using that month's designated technique. They are working their way through the alphabet and this month was represented by the letter I.
It should be interesting when they get to some of the more obscure letters of the alphabet. I wonder what crafting technique they have planned for "X" and "U".
You can check out her other creations for this swap by visiting the ATC category of her blog or searching her blog for 'technique swap' like I did.
---

A few suggestions for further reading...