This week's Featured Friday is all about Etsy. I thought it would be fun to showcase items made recently and offered for sale by some of the Etsians participating on Crafty Tips. If you see something you like, you better act fast before they're gone.
---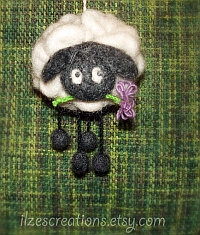 This little guy has got to be the cutest thing I've seen all day. That might not sound like much but I've been going through Etsy and blog feeds all day to craft this post.
When I saw this sweet hand-felted sheep ornament, I knew he had to be part of this week's Feature Friday.
This little fellow's body is 4″ by 3″ and when he is hung and his legs dangle – the ornament becomes 8″ tall. The small handmade flower in his mouth adds even a little more charm to this creation by Ilze.
She's offering him for $25 and that includes shipping to anywhere in the world.
Ilze lives in Latvia and has been knitting and crocheting since she was 10 years old. She offers a variety of felted and crochet items in her shop.
---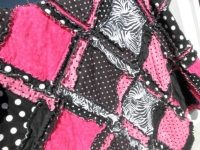 A Vision to Remember added this lovely pink, white and black rag quilt to her shop today. Bobbie is offering a 44X44 inch version of this quilt for $80. The quilt is made of flannel and 100% cotton fabrics with polka dots, zebra stripes and lots of hot pink.
What little girl wouldn't love to have such a funky and fabulous quilt?
You'll receive a handmade quilt made just for you within 2-3 weeks, so you better order one soon if you plan on using it for a Christmas present.
Be sure to also check out her car seat canopies, rag bags and aprons and other rag quilts.
---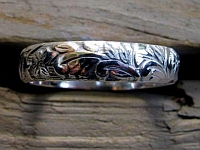 Wonderfully delicate, beautifully shiny, this floral sterling silver ring is currently on sale for $20.40 (regular price is $24). At either price, Elizabeth is offering this 4mm wide ring in the size of your choice. And, if you would like, she will also oxidize your ring to further bring out her detailed engraving.
Elizabeth makes these fine rings to wear alone or in combination with her other stackable rings.
Better hurry or you might miss out on this great deal! Be sure too to check out all of her other lovely handmade jewelry. Additionally, between now and May of 2012, Elizabeth is donating 10% of every sale to the National MS Society in the name of a friend who will be running in the 5k portion of the Pittsburgh Marathon in her father's honor.
---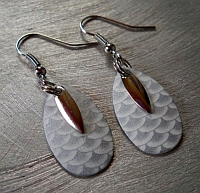 Have you seen the jewelry Jay Behrle has been creating? He has combined his two passions – fishing and designing, to create original jewelry designs.
This pair of silver earrings is made with Silver Scale Indiana Blades and they hold a secret…they glow in the dark!
All of Jay's jewelry uses components originally designed to make fishing lures, flies and spinners. And, like these earrings, he sells most of his jewelry for $10.
The first time I saw Jay's jewelry, I marveled at his clever use of materials. These would make a great Christmas present for the lady who likes different things. And, can you just see the attention she'll get when her earrings actually glow in the dark?!
---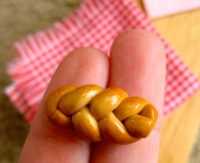 Ah, the risks of posting a Featured Friday full of Etsy finds. Before I could finish this post, the original item I had chosen was already sold.
But, this Challah bread miniature looks just as tasty as the mac-n-cheese that sold earlier this week. Looks good enough to eat, doesn't it?
Just in case the fingers didn't give you a clue, Allie makes 1/12 scale miniatures. That means for every 12 inches long something is in real life, the miniature is only 1 inch long. This teeny loaf of bread is designed for a dollhouse or roombox and is being offered for $8 on her Etsy shop.
---

A few suggestions for further reading...