Yes, I delayed in posting the last Featured Friday of 2011. I was hoping that there would be enough things that folks participating on Crafty Tips were sharing today to make a list of five wonderful handcrafted items for this week. Ironically, this week has given me more time to craft than usual but then again, I don't have a houseful of company or travel arrangements to deal with.
The handmade items featured this week are…(trumpets sound, pompoms are waved, … oh boy, gotta cut back on that egg nog)…
---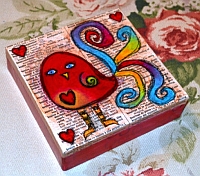 I dug a little deep into her archives for this one, but I just thought it was such a colorful and happy piece.
Jane of Jane Blogs only posts once or twice a month but when she does it's often something colorful and charming. This is her first attempt in working with acrylic paint. If this lovely little bird and his wonderfully colorful tail is her first project, I can't wait to see what she's been creating since.
Her little boy immediately claimed this Painted Bird for his own and I don't blame him a bit.
---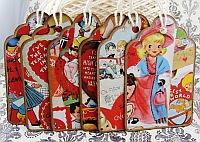 Kat offers so many wonderful things for scrapbookers and paper crafters on her Etsy shop. This week she posted these Vintage Valentine Tags.
Her's was the first item to hit my feeds related to Valentine's Day, so of course I had to include these tags on the first Featured Friday after Christmas. The fact that I am fascinated by vintage images didn't hurt either.
Be sure to check out her supply of die cuts, cupcake holders and assorted other paper goodness.
---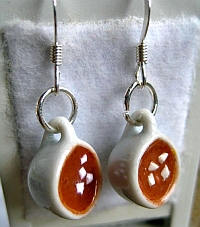 Even if you don't have a doll house or collect miniatures, but you like teeny little things, you should check out Allie's Etsy shop.
She turns many of her miniature food creations into jewelry!
This pair of hot chocolate earrings even comes equipped with mini marshmallows floating in the chocolate.
Allie made everything with polymer clay. What I find amazing about her work is how she is able to make the clay look like so many other substances. These earrings look like she used china cups and placed real hot chocolate and pieces of marshmallows in it and yet, they are completely made out of clay.
---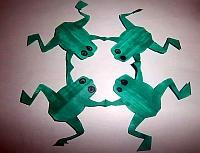 When I posted a tutorial for making cut out snowflakes the other day, I knew there were lots of folks out there using similar techniques to go far beyond the simple flakes my family creates.
While Kathy didn't design these froggie snowflakes, she does get credit among the Crafty Tips family for finding the tutorial and posting her family's version of frog snowflakes. I gave it a try and can tell you that if you make this project with a small piece of paper it will be an even bigger hit. I think it would make a great frame for a scrapbook photo or other paper craft project too.
---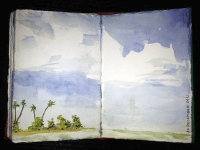 Every day is a day full of art with Elizabeth Perry. She regularly posts a small painting each day on her blog.
Sitting here and feeling chilled as I write this post, Elizabeth's Crescent Beach painting reminds me of warm sun-filled days at the beach. A family holiday in a tropical clime has her sharing the loveliness of where she is staying.
Her blog is full of little paintings like this one and they are strangely addictive. When I visit, I often find myself opening each blog post like a surprise gift never knowing what I might find inside.
---

A few suggestions for further reading...