Today's Featured Friday post exemplifies why I love having a site like Crafty Tips. I get to meet and visit the sites and shops of so many talented and creative people. And, I get to see all of the wonderful things they are making.
This week's Featured Friday showcases a few items made as gifts for a pair of lucky little girls, two unique pieces of jewelry and a small, colorful painting. There's literally something for everyone in this post.
Enjoy the eye candy of these talented ladies and hurry over to Etsy if any of the items offered for sale take your fancy.
---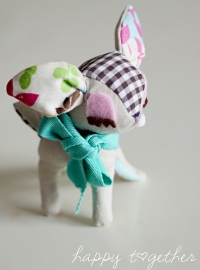 One very lucky little girl is going to receive not one, but three of these oh-so-cute little stuffed deer for Christmas. Jessica made these little deers for one of her favorite little dears – her daughter.
According to Jessica, these little dears are fairly quick to make up. They are also a great scrap-busting project as they are only a few inches tall.
You could make your own Deers for My Dear in bright colors like Jessica has done or make them in Christmas colors. Couldn't you just see a group of them pulling a present-laden sleigh across the dining room table?
It shouldn't come as a surprise but these super cute deer are another great project coming out of Japan. They are one of 40 projects included in a recently published book.
Jessica's post includes a link to another blogger's site who has posted the pattern for these deer and who tells everyone how to purchase the book.
---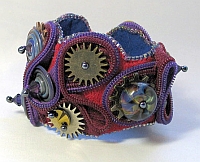 Hannah Rosner of Good River Gallery creates so many wonderful things – beaded jewelry, beaded purses and lampwork beads.
This week, she added this paisley zipper cuff bracelet to her Etsy shop.
I think the piece truly represents all of her skills. It showcases a number of her lovely lampworked beads, with some beading work and her sewing skills using zippers.
You'll have to act fast and have a tiny wrist (6-7 inches) if you want to call this piece of art jewelry your own as it is truly a one of a kind piece.
---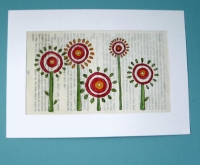 Ruth Watkin is currently at University studying costume design. She makes lovely corsets and a number of other items.
From time to time, she adds corsets to her Etsy shop, but her most popular items are her small paintings on book pages like this one. Her quirky flower painting would add a touch of sunshine to any room it is displayed in.
Before she wins the Academy Award for her work in costume design, you can purchase this charming and colorful painting for only $8. It comes matted in white and she'll have it framed and placed under glass upon request.
---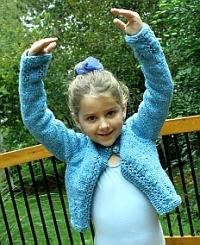 What a happy little dancer! Modeling the lovely blue sweater made just for her, she looks like a little blue fairy.
While her mom recounts a few growing pains seeing her little princess transitioning away from all things pink, she shares the charming story of the inspiration for this sweater. A bit of serendipity caused a flaw in the yarn to make this sweater even more loved by its recipient.
Michelle designed the sweater as she went along, incorporating a number of different knitting techniques and decorations. The detailing on the sleeves and along the edges is particularly pretty.
She has promised to try to work up a pattern and even though I don't knit, I hope she can remember how she made this lovely sweater as I'm sure there's plenty of other little girls who would adore their own pretty blue and sparkly sweater.
---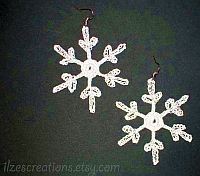 Last week it was the cutest little needle felted lamb. This week Ilze is offering a pair of crochet snowflake earrings.
Stiffened with all-natural potato starch, these handcrafted earrings are made of 100% cotton. The snowflakes are 2.5 inches long and hang 3.1 inches from the ear.
She offers these earrings in a variety of colors on her Etsy shop. Why spend more for mass-produced Christmas earrings that thousands of other people are wearing when for $6 plus shipping, you can have hand-crocheted earrings that will cause your friends and family to demand to know where you got them?
---

A few suggestions for further reading...