Oh my, where does the time go. Seven days always seems so far away and somehow here we are again late afternoon on yet another Friday. With so many great things that everyone's making, it's so hard to find just a few each week to share with everyone. I suspect as everyone gets back down to business after the busy Christmas season that it's going to become only harder to narrow the list down to five great projects each week.
I'm still working on building my Google reader list, so if you haven't been featured yet, please drop me a line with your latest project or the address of your feed.
If anyone's checking, while I started this post on Thursday evening and even wrote a few of the reviews on Friday, alas it was Saturday morning when Mom said "Let's go out" and then it was Saturday evening before I finally got it done. It's my birthday this weekend, so hopefully, everyone will forgive me. My procrastination has nothing to do with my excitement over everyone's creations and everything to do with the annual after-Christmas letdown and 'oh my, I'm another year older and what do I have to show for it duldrums'.
The folks showcased here this week have plenty to show for being a year older. Their work is always worthy of attention and I do hope you check out their shops, sites and blogs.
---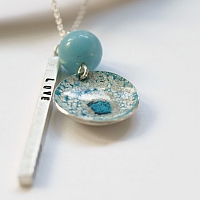 Natascha is a Swiss designer living in Zurich. She specializes in sterling silver jewelry. Among her most popular items are the enameled silver disks like the one that is part of this Blue Enameled Charm Necklace.
You can find this necklace, with an amazonite aqua blue natural stone and a beautiful silk brushed sterling silver stick with the words DREAM – LOVE – JOY – LIFE hand stamped on each of the sides.
The chain is also .925 silver and is 16.5 inches long.
Natascha has been making jewelry for over six years and has been selling her pieces on Etsy since May of 2009.
---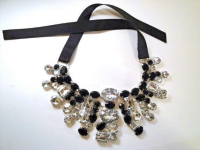 Keishell James is a name I suspect you will be hearing more of. This designer from New York has a bold style designed to be attention getting.
The goal of this Black and White Bib Necklace is to make a statement. And that it does with chunky crystals and rhinestones hung on a ribbon necklace. The bling lasts for 8 inches and is 3 inches tall – making the wearer into a real fashionista and glamor girl.
Be sure to check out the rest of her Etsy shop as Keishell is continually adding new fashion items that will glam up your wardrobe literally from head to toe.
---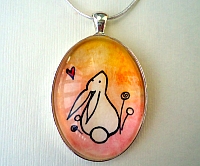 Truly wearable art, this Hand Painted Bunny Rabbit Necklace features a small painting by artist Jennifer O'Toole.
Jennifer has placed one of her original watercolor paintings under glass and framed it in a silver plated case. This charming little bunny pendent is suspended from a silver plated snake chain necklace making him ready to join you on your day's travels.
Be sure to visit her Etsy shop to see what other wonderful friends and inspirational quotations she has painted and turned into wearable art.
---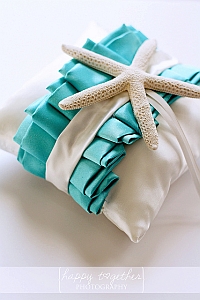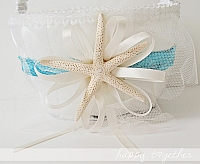 These items go so well together. How could I talk about only one of them?
Jessica made something absolutely beautiful in this ring bearer pillow and flower girl basket for a friend's wedding.
A white, teal and beach theme. Doesn't it sound like it will be a beautiful weddding? What a lucky bride to know someone as talented as Jessica.
She doesn't offer a full tutorial but does share more than enough information to create something similar.
Do stop by to ooh and ahh over both projects and admire her wonderful photography skills.
---

A few suggestions for further reading...