The artists and crafters who are participating on Crafty Tips create so many wonderful things. This week, Featured Friday will showcase a variety of different projects – from a decoupaged, thrift store rescue to an artist trading card (ATC) decorated with eggshells – there's hopefully something here that will entice you to visit one or more of the blogs I've featured.
Be sure to let the artists know how much you appreciate their work and do check out the shops of the ones who offer their creations for sale.
Yes, I know, this post was published on Saturday. I won't tell if you don't.
---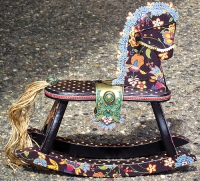 Tara is a talented scrapbooker and graphic designer who combined many of her scrapping skills to decorate a thrift store hobby horse and turn it into a real work of art – Altered Rocking Horse, Le Cirque Style.
Using a number of papers from the Le Cirque Collection by Graphic 45 Papers and a number of other embellishments, she turned a tattered children's toy into a bit of high-end home decor.
On her blog, she goes into greater detail about the supplies she used and how she put it all together. Be sure when you visit to also look at her Christmas Emporium Altered Art Box & Calendar post and the lovely boxes she made.
---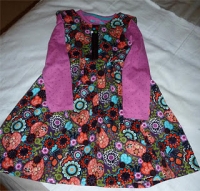 Among a number of other lovely projects, Christine included this cute little needle-cord dress that she made for one of her granddaughters. You can see the dress and all of her other handmade items in this post Stock Roundup.
What a lucky little girl to have a grandmother who makes her such beautiful dresses. The fabric is so bright and vibrant! So much of the fabric available in the stores we've been seeing is drab and boring.
Be sure to keep scrolling through the post to check out some of the lovely pouches, handbags and purses she made to sell at the market next week. Visit her site in the next few days and you might convince her to sell them to you instead.
---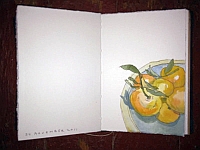 It's like sneaking a peek over her shoulder as she draws her wonderful sketches and small paintings each day. Elizabeth Perry, an artist from Pittsburgh, literally opens her sketchbook to the rest of us so that we may enjoy her work.
This plateful of pretty tangerines makes me think of sunshine after a week of mostly gray and overcast days.
She shares with all of us her lovely sketches and offers her original work for sale in the original form and/or as prints. And don't miss her charming children's book entitled "Think Cool Thoughts"; available on Amazon.
---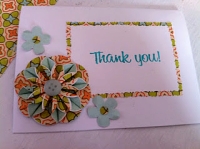 Jessica loves to craft and shares the lovely things she makes in an endeavor to inspire others.
A few days ago, she made this lovely thank you card using a flower tutorial she found on another blog, one of her rubber stamps and more than a bit of her own creativity.
In her post Flowery Fun Thank You Cards she shows how she made the card and provides a number of tips for making your own.
---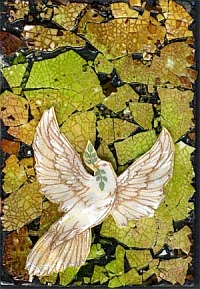 June Campbell has been hooked on scrapbooking since a heavily deadline-driven project for her son was completely early, was quite successful and was well-received.
She credits the helpful ladies in her local scrapbook store with teaching her what she needed to complete that first project.
Years later, June is sharing her knowledge with others. Her blog is full of great tutorials and she also offers a series of video tutorials for sale.
This project is entitled Christmas ATC with Mosaic Eggshell Background. As the title describes, this ATC was made with eggshells colorized with alcohol inks – she offers a tutorial for that too. June adorned her artist trading card with a clip art dove and coated it with Simple Shine.
I love the look of the eggshells and alcohol ink. I've not used alcohol ink but imagine they can be can be used for all sorts of wonderful things if they can make eggshells look this good.
---

A few suggestions for further reading...