I don't think I've ever shared my foray into the world of felting. One of the exhibitors at a Fiber Fair I attended a few years ago was selling needle felting kits. The kit included enough fluff, otherwise known as roving, felting needles and detailed instructions on how to create two critters. The kit I chose had instructions for a skunk and a raccoon. At the time we had just discovered we had a family of raccoons living somewhere nearby and got to see several of them just outside our windows. The lure of working with the roving and sculpting a raccoon proved irresistible and my rule of no new craft projects couldn't possibly apply when the result would also make a perfect Christmas present.
I had seen some of the wonderful things made by the needle felting artists who had already submitted to the Fulling & Felting category on Crafty Tips and figured my background in shaping with crochet would come in handy.
Needle Felting is More Like Sculpting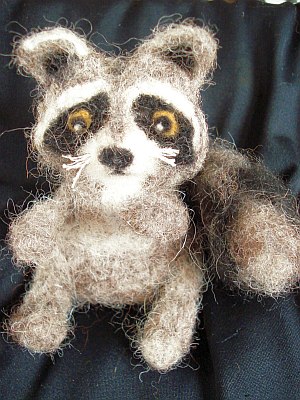 I learned quickly that crochet shaping is more of a process of creating a hollow shell or outline of the shape whereas needle felting builds shapes from the inside in layers. After much poking and prodding of a viciously sharp little felting needle, I ended up with Rocky the Raccoon.
The original design had a quite unsubstantial tail. From our late-night encounters with our family of 5 masked-marauders, I knew that raccoons have big, beautiful, fluffy tails. My little guy certainly had to have one too. The tail was tricky because I was on my own as to how to approach it. I ended up doing it like hair plugs, tucking the end of the fibers onto the tail and trying very hard not to mash a previous row down while attaching the next.
Crochet Flowers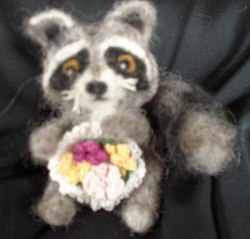 Little Rocky also looked like he needed to hold something. Don't his arms look ready to give someone a big hug or hold a bouquet of flowers? Oh, yes, had to get my crochet groove on with this Christmas project. So, Rocky got his very own little lace-lined posy of flowers. He now holds them in his arms ready to give them away to someone special.
I've started working on the second critter in the kit, a skunk, but for now she remains only partially finished in my UFO pile. Perhaps one day, little Rocky with have a friend.
Lessons Learned
I had a lot of fun making him but one thing I learned is that it's not as easy as so many make needle felting out to be; particularly if you like making tiny things. The amount of fiber used for the eyes and other fine details ends up being not much larger than the head of a pin – use too much and you've got to poke it through and hope you don't create a dent in your critter's face. While I knew they were making really amazing stuff anyway, my adventure in needle felting made me realize just how talented the artists who work in that medium are. I am particularly amazed at the folks creating pet portrait sculptures.
Great Needle Felting Artists
If you are interested in learning how to needle felt or see much finer examples of felted sculptures than my Rocky, please visit Crafty Tips and check out the great Fulling & Felting Artists showcased there.

A few suggestions for further reading...