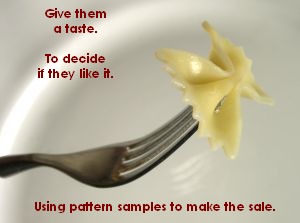 I've always said that if you want to sell project patterns that you should give your potential customers a taste of what you offer, particularly if you are selling over the web through pattern samples.
After all, how do I know if I like your style of designs or if I can decipher your instructions if I've never seen them before. Maybe I'm just cheap but the idea of spending even a few dollars on a non-returnable pattern that I won't be able to make, makes me cringe.
The folks at Lark Crafts have embraced this concept of giving crafters a taste before buying and offer a number of wonderful pattern samples from their latest releases.
Beaded Fantasies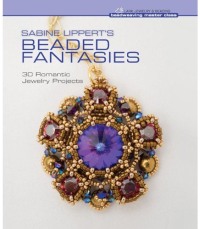 Sabine Lippert is a fantastic beader from Germany. She recently released her first English Language beading book – Beaded Fantasies. But, even better, Lippert and the folks at Lark Crafts are making available for free online her Les Fleurs Necklace project as a pattern sample.
Beaded Fantasies looks like a wonderful book for beaders which has 20 Romantic Jewelry Projects.
The PDF file where they share her beaded necklace pattern is a perfect example of how to provide potential customers with a taste of your patterns without giving so much away that folks won't feel compelled to purchase a book.
Whether you visit to try the beautiful pattern or to learn about marketing your own patterns, you are in for a treat of beaded eye-candy and inspiration.
Japanese Beadwork with Sonoko Nozue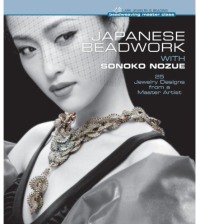 This book contains a master class on product photography, bead design and fashion. It doesn't hurt that the artist is stunning. Her use of black and white photographs with her jewelry the only 'color' on the page show off more than just the beads. Born in Tokyo, Nozue was the first foreign instructor invited to the Bead & Button conference.
Those of us who couldn't attend her class at the Bead Art Show in Yokohama in 2008 are being treated to a free copy of her Crystal Rose pattern from her book Japanese Beadwork with Sonoko Nozue
Again, we get a taste of a designers style and her technique before investing in her book of 25 beautiful beaded designs. Though, I think this book is one you should certainly consider adding to your personal library.
More Free Beading Pattern Samples from Lark Crafts Authors
Nozue and Lipert are not the only Lark Crafts authors offering an introduction to their style through free sample patterns. This post Nab project PDFs from Sabine Lippert and Sonoko Nozue (and then from many others)! contains links to EIGHT other books that they have published that have sample patterns.
Don't let my use of the phrase sample patterns make you think these patterns aren't worthy of a looksee. Every pattern is offered exactly as it appears in the book.
Pattern Selling Online
Even if you aren't reading this post looking for Free Beading Patterns, there is much to learn from how Lark Crafts and their authors promote their new releases. I found out about one of these books from a blog post and it led me to the Lark site to learn more. Pattern designers should learn from their example.
If you have a blog, don't just post about what you are selling. You should always offer some information and patterns for free. The idea is to get people interested in your work, see if they can follow your instructions and leave them hungry for more.
Quite simple really. I just don't understand why so many designers don't get this.

A few suggestions for further reading...