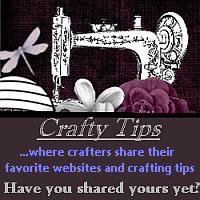 OK, all of you crafty folks out there in blogland, I'm calling on you to tell me about your favorite arts and crafts websites. I can't find them all by myself. It's been one of those frustrating few days where I have to say goodbye to more old friends than hello to new ones.
SteamPunk & Lolita
Once again, whilst adding a great new crafting tips and site to Crafty Tips, I have to bid adieu to not one, not two, but three! old friends. Quite a hit on the Lolita & Steampunk Tips category but hopefully with your help it will be a short-term decline.
The new listing is for a great Israeli artist who specializes in Steampunk style jewelry. Check her out and tell her Michele over on Crafty Tips sent ya.
Craft Blogs
As much as it pains me to admit it, there's tons of other great blogs about crafts. There's quite a few of them featured on Crafty Tips.
Unfortunately, yesterday was one of those days for one step forward, two steps back. Another great listing was added to the Crafty Blogs category and another one bit the dust. Sigh.
The good news is Kelly's blog is lots of fun and a great read.
So little time, so many great sites
I love looking for new sites, great crafting tips and new friends to share on Crafty Tips. Unfortunately, it is one of those things that seems to eat time. After all, I want to explore all of the crafty and artistic goodness on these sites. I find myself having to exercise restraint if I want to actually get anything done.
Oh cool look at the great embroidery project, I would so love to make that. Oooh, batik using candles. And loook at this, pretty poppies. So much inspiration it's almost overwhelming. And, that's even before I check out the latest pins on Pinterest.
Christmas in April?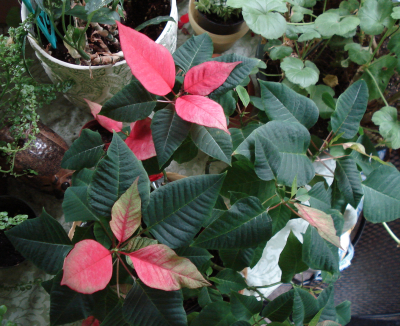 A Christmas tradition in our house is the annual purchase of poinsettia plants. We enjoy them while they are blooming but unlike many folks we just can't bring ourselves to throw them out simply because Christmas is over or they have stopped blooming. They usually get added to our unheated sun room and we enjoy them for their pretty leaves with their red brackets.
We've tried the whole locking them in a dark, cold closet to get them to rebloom. It's never worked for us. If anything, all we ended up with was a dead plant.
For whatever reason, our sun room had the exact right conditions this spring. Lo and behold, we have not one, but two, blooming poinsettias right now. Granted they are not the showroom quality display of a Christmastime store-bought plant but we're tickled pink that we have any flowers. While we're totally enjoying this rare spring display, we have little doubt we did very little to cause it.

A few suggestions for further reading...