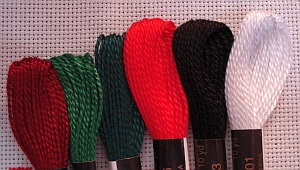 Oh how I wish that I could just go down to my local yarn store or craft store and just pick out whatever I wanted and not worry about the cost. How fun would it be to only use the finest of craft materials even for the dinkiest projects! There probably are some folks who are able to do that, but for the rest of us we have to often settle for whatever's on sale.
After Christmas is one of my favorite times to add to my stash of craft supplies, craft supply bargains abound. And, if you shop carefully, the items you find can be used throughout the year, not just at Christmas. The hardest part is being able to think quickly on your feet as you rummage through the quickly diminishing piles of stock the stores are offering for 50, 75 and even 90% off. How can I use this brown ribbon? Does that Christmas hat come off of that teeny teddy bear? So what if I can only use a portion of the item year-round, for 25 cents on the dollar, I could afford to throw out/donate to the local thrift the overly Christmas looking part.
Christmas Ribbon, Yarn & Thread.
Gotta love the companies who put Christmas branding on their ribbons, yarns and threads. The stores won't be able to sell it in June, even if it is purple, pink or black. Scrapbookers pay a lot of money for short little bits of ribbon. Why pay as much as $5-10 a yard when you can get the entire spool for 50 cents or a dollar? Make doll clothes? Ribbon makes beautiful trim and even helps reinforce seams.
The cotton floss shown here was from a Christmas branded package of two or three dozen skeins from several years ago. It was already in Big Lots, so it was a great buy to begin with. But, with the after Christmas sale discounts, it was a virtual steal. Together, the colors represent Christmas. Separated, they can be used year round. Starting to get the idea here on how to find great craft supply bargains after Christmas?
Glue, Glitter & Other Sparkly Stuff
Again, Christmas branding is your friend. Tape, glue and other craft supplies marketed for Christmas crafting can often be had at prices you'll never see during the year. Glitter? Think about it. If the package has white, red and green glitter in separate tubes…hello…you don't have to use all three at once. If it has the Christmas colors already mixed, why not add some other colors to it to create your own blend? When I needed some fine glitter for my ChristmasVillage Trees that darn stuff was almost $5. For the little I needed, I would have been way ahead if I could have found some packaged for Christmas.
Beads and other embellishments can often be found at fire sale prices this time of year. Again, if the bag of beads only has red, green and white beads, who say's they have to be used together? That shiny, red roll of rick-rack can be easily used on Valentine's Day. A few years ago, I scored a mixed bag of buttons that had snowflakes, angels and plain ones for like 50 cents. The plain ones alone would have cost me more than that in a fabric store.
After Christmas Craft Supply Bargains for Kids
Check out the Christmas kids crafts too. Besides their value for crafting next year with your children, they often include tons of great craft supplies. Many of the children's craft kits contain pre-cut felt pieces, buttons and beads that would cost much more where they purchased separately – even more so when they're on clearance.
Wrapping Paper
OK, so it's pretty much a given that you can get wrapping paper cheap after Christmas but who said you can only use it to wrap gifts with? The foiled paper would work great on scrapbook pages and mixed media projects. The regular paper would work great for rolled paper crafts like this (Christmastree).
Shop carefully for all of your wrapping paper needs. Birthday paper rarely goes on sale. This year we scored a big roll of red paper with bright pink, orange and blue dots – perfect birthday party colors! We saw several rolls that had pretty graphics of cats and dogs in squares that easily could have been cut out and used for crafts.
Angels, Angel Wings, Angel Hair & Other Assorted Dolls and Toys
Christmas angel wing ornaments could easily adorn a dolly. Those pretty feather ones for Victorian trees would be gorgeous on a handmade doll or teddy. Same goes for hats, hair/wigs, dresses, shoes, etc.
After Christmas Sale Bargains for Crafters
Shop carefully and you'll find tons of great discounted Christmas craft goodies at rock-bottom prices. My strategy is if I'm on the fence about something to go ahead and put it in my cart. I can always put it back but if I hesitate and leave it on the shelf, someone else might grab it.
The best thing is you really can't go wrong. If you don't have a non-Christmas use for something, you can always use it next year for Christmas.
Happy Hunting!

A few suggestions for further reading...