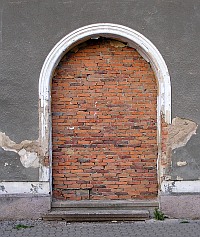 It's like running into a brick wall. A website has great information and would make a great addition to Crafty Tips or any other site for that matter. They might even have several pages of their own favorite sites but when it comes to linking to them, there's absolutely nothing. No logo, no banner, no text, not even the suggestion to link to them.
Don't make this mistake!
Invite people to give you backlinks. You might be surprised how effective this can be.
Take a few moments and think about how you would like other folks to treat your site's content and share it with others. If you don't mind folks using a picture from one of your posts as long as it includes a clear credit and link back to you – say so! If you don't want anyone using your work that way – say so!
Make it easier for others to help promote you when you post something people might want to share.
Logos and banners don't have to be fancy, just something with your name and your site's colors will do if you don't have a true logo or banner. Better yet, create one for yourself or hire one of the many talented designers to create one for you. Some crafters are selling custom banners for Etsy shops for as little as $25. It's a sound investment in your website.
Of course, now that I've written this, I'll have to practice what I preach and get something set up for Blog About Crafts. Guess, I've got my own brick wall to knock down.

A few suggestions for further reading...