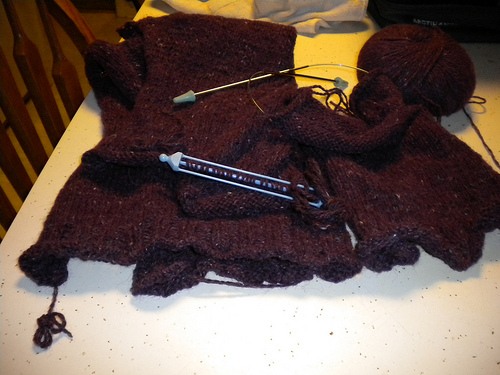 How absolutely exciting!
It looks like the owner of this knitting project has been found!
One of the members of Ravelry, the knitting and crochet forum where this search began, recognized the project as possibly having belonged to a friend of hers. The project was apparently lost during a flight to North Carolina to visit a son in the military before deployment.
As of this morning, it's making it's way back to the original owner, now living in Colorado. The friend has said that the original owner is a bit embarrassed by all the attention her lost project has brought her way but this whole thing just makes for such a wonderful story of sharing, thoughtfulness and the kindness of strangers.
A few folks have questioned the ownership claim since the yarn and needles are fairly pricey but this does sound like the real deal and Ravelry members are seeing if this story might get picked up by the media – one of those happy stories about living in America sort of things.
All I can say, is now every time I think about this story, it just brings a happy smile to my face thinking how wonderful the people who call themselves crafters and knitters can be!

A few suggestions for further reading...