Yes, it's been almost two months since my last post. My writing business has picked up and both of my webhosts decided to upgrade. I thought I was being so clever spreading out the risk by having two webhosts but that strategy proved useless when they both announced major changes within days of each other.

The good news is that they forced me to do things that I had been constantly putting off – like upgrading Crafty Tips. Believe it or not, I started working on a new design in January of 2009. The dreary look is gone and a bold, dark purple color scheme puts even more emphasis on everyone's wonderful creations. The screen shot below is what the homepage now looks like.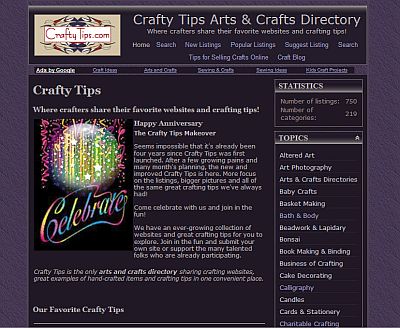 All of the sites have been audited, so hopefully I've pulled any listings that are no longer online – sadly there were quite a few. Every site is now shown with a much bigger picture and of course everyone's wonderful crafting tips are still included. I tried to post the same picture as we originally had, but everyone with a listing should double check and make sure the picture I chose is one you approve of. If not, use the contact form on Crafty Tips or email me and let me know.
Featured listings are now just that – featured. Before they pretty much got only a different border and listed at the top of the category. Now, they still are listed at the top of the category but they also come with two pictures and a much more noticeable layout like the one shown below…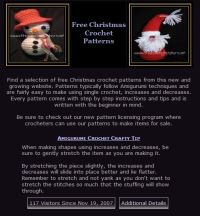 In the coming weeks, I hope to add a few more features and offer a new advertising option that will include an Artist's statement on the listing details page. For now, the prices for additional advertising are at the same original low rates – so get in now before the price increase hits and have your advertising up before the Christmas season starts!
Another victim/beneficiary of the great server upgrade of 2010, is Art Filled Days. Art Filled Days is a blog about all of the happenings on my free image download site Reusable Art. I announce new categories, feature some of my favorite pictures and compare famous landmarks as they looked in the late 1800s to what they look like today. I also am working on adding more biographies for the artists included on Reusable Art – for now Walter Crane remains the only artist profiled. (Do check it out, I found his autobiography and talk about his journey to becoming an artist rather than a Wikipedia style article about his professional life.)
Art Filled Days also had a not-so-inspiring look, particularly for a site talking about drawings and paintings from some of the world's best illustrators. It now has a more modern, but simple look that puts more focus on the wonderful vintage illustrations and the artists who created them.
Art Filled Days and Reusable Art have sadly become victims of my success. I've been so busy writing for other people that my own sites have become quite neglected. I hope some schedule changes and organizational changes will put an end to the neglect and give me more time to work on those two sites.
Stay tuned as there's more to come.
If you've had a chance to see the new Crafty Tips, do let me know what you think.

A few suggestions for further reading...