I was wandering around on Pinterest today and came upon the cutest pair of earrings made from polymer clay. As usual, the pin didn't go to the designer but to another social picture sort of site. One commenter mentioned getting the same earrings on Etsy and thankfully the picture did click through to the Etsy shop.
That's when things got interesting. The shop was empty. Not a generally a good sign. That usually means the shop has been abandoned or someone is on vacation. This time it was the strategy of one crafter with what may have become one of the hottest things to hit Etsy in a while.
I would have called them Seymour earrings – as in Little Shop of Horrors. But, apparently there's a tie to piranhas, man-eating plants and the Mario Brothers video game. Regardless, of their inspiration, these are some of the most cleverly designed things I've seen in a while.
What am I talking about?
I'm talking about "The original YOUCH Piranha Plant Earrings" by LizGizz of course.
Haven't seen them?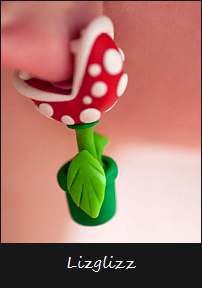 Is this not the most fun earring you've ever saw?
The problem Liz is now facing is one many crafters dream of – too many orders. She literally can't keep up with the overwhelming demand that she is facing. And, I might not be doing her any favors by sharing her oh-so-cute earrings with you. But, I wanted to discuss her very smart approach to the situation she has found herself in – demand is far exceeding her ability to supply everyone who wants a pair of these earrings.
Liz is limiting supply and not promising deliveries that she can't make. She is apparently posting bunches of her earrings at the beginning of each month. On a first come, first served basis, she sells what she has in stock and when they're gone, there's no more until next month. Today's April 4th and she has sold all 167 pairs that she has posted in her shop. Yes, that's 394 little polymer clay man-eating plants that she made last month. Gone. Whew, that's a lot of little bits of clay and a whole lotta work.
Ironically, her limited ability to create these earrings might even be helping to create even more demand for them. A quick look on her Facebook page revealed an almost circus like atmosphere of people anticipating April's posting of earrings. And, like I said, here it is only the 4th and every last pair is already sold.
She used to make a number of other video-game related creatures as well and they too were super cute. But, it's obvious she has a real winner in these earrings.
And sadly, like so many good things, there's several folks trying to emulate her success by shall we say "borrowing" her design. The fun thing about Etsy is you can see when items were sold and thereby often see who was the first with a particular idea. From everything I found, Lizglizz came up with this design.
So, if you want a pair of the hottest earrings to hit Etsy in ages. Check out Lizglizz on May 1st. But, you better be fast because there's no guarantee that you'll get a pair.
BTW, just in case anyone asks, Liz is not on Crafty Tips (yet) and I have not been compensated in any way to make this post. It is simply a bit of 'woo-wee look at her go', 'congratulations' and 'looky here at this great learning opportunity for us all'.

A few suggestions for further reading...