The Art of Quilling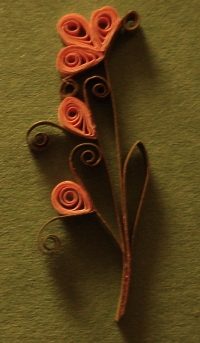 People have been expressing themselves with tiny strips of paper for hundreds of years. Quilling, the art of taking thin strips of paper, coiling, pinching and bending them to create 2 and 3-dimensional works of art may date as far back as the 1300s. Quilled items were originally created to adorn Bibles. Later, wealthy ladies would make quilled items as a genteel way to fill their time.
Quilling seemed to be on its way to becoming something our grandmother's did but no new artists were embracing. The scrapbooking and paper crafts craze has breathed new life into quilling and its popularity is soaring.
Quilled items are being used to adorn scrapbook pages, greeting cards and mixed media art projects. Quilled items are being varnished and turned into jewelry. And little coils of paper are even being turned into three-dimensional sculptures that stand on their own.
The Quilling category on Crafty Tips is still in its early phases but I hope you take the time to check out the sites already there. One site represents the North American Quilling Guild and the other represents a talented quilling artist who is sharing many tips, techniques and eye candy for everyone to enjoy.
Michele's Quilling Endeavors
I've dabbled in quilling years ago and was lucky enough to find a small beginner's kit in a local thrift. Using one of the diagrams from the kit, I made the sprig of flowers shown here which I used to illustrate the art of quilling on Crafty Tips.
Please accept my apologies for the gloomy-looking photo, I think it's been over a week since we had a sunny day here.
My Quilled Poinsettia Christmas Ornament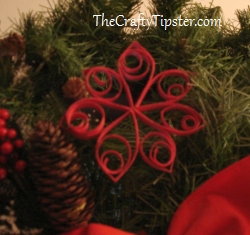 I used basic quilling techniques to develop a children's Christmas craft project. Not having my own children, I don't know what age groups it would work with but I came up with this design which uses things you hopefully already have in your home.
While quilling purists would cringe at my use of a paper shredder to make the strips, it's a much cheaper and easier option to introduce the art form to kids or try it for the first time yourself. And besides, we think the fuzzyness of the edges just adds to the overall craftiness of the flowers. Of course if you want to make flowers that are more art and less craft, you could always hand-cut the strips or purchase some pre-made ones.
A bit of construction paper, a trio of pencils and some glue (I used glue stick) are all you need for this project. The tutorial is on The Crafty Tipster under the Family Crafts section – Poinsettia Christmas Ornament.

A few suggestions for further reading...