In a move that is perhaps greatly overdue, I've finally added a category to Crafty Tips that celebrates the artists and crafters who work with recycled items. These green and crafty folks take things that we would normally discard and create something beautiful, functional and even wearable!
One of my favorite websites that shares projects and patterns about recycled crafting is called My Recycled Bags. As the name implies, this blog is all about recycling bags to create even more functional and useful items. Cindy, the crafter and artist behind this site, provides step by step instructions to make your own recycled crafts that often use plastic bags and old denim.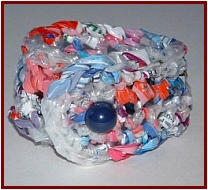 Her latest project and my personal favorite is a Recycled Plastic Cuff Bracelet Pattern made from "plarn". Plarn is yarn made from plastic bags. Don't know how to make yarn from those old grocery store or bread bags? Not to worry, her site has a super easy to follow tutorial on how to make your own.
Along with plastic bag crafts, Cindy also shares great ideas for crafting with cassette tapes, VCR tapes and even lettuce netting. I first added her blog to Crafty Tips back in 2007 so you know there's tons of great stuff to be found on her site.
Now you can also find her site listed in the new category Recycled Art!

A few suggestions for further reading...