I so love spring. It is without a doubt my favorite time of year. The daffodils, the crocus, the greening of the trees. All of it signals something of a rebirth of the landscape. But, it's not until a particular wee little birdie comes to visit that it really means spring has arrived.
It happened yesterday. I was sitting at my desk and I saw movement at the window. The first hummingbird of spring! He flew up to my window and just hovered there. It was if he was saying hello and asking us to put his feeder up. We quickly made a bit of sugar water for him and put it out. After all, most of the nectar-bearing flowers aren't in bloom yet and after such a long trip to us, he was probably quite hungry. I'm not sure if there's more than one about in the yard but so far I've only seen one. They move so fast and look so similar that we really don't know how many are around until we see them fighting over the feeder.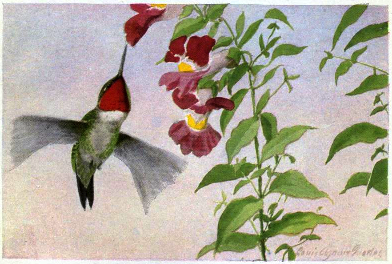 I thought I would share a picture of one of these pretty little birds. I'm so glad I found one by such a wonderful artist as Louis Agassiz Fuertes. Fuertes is most well-known for his wonderful depictions of the birds of the world.
I also posted this piece on Reusable Art today. If you would like to download the original, larger sized version of this piece, you can find it here hummingbird drawing.
The weather has been quite pretty the past few days. We were lucky enough to be able to play a bit of hooky. We visited a small town in South Carolina. Abbeville was a pretty town with the most friendly folks. It has a large town square. The sidewalks are a combination of segment and cobblestones/bricks. There's trees, grassy areas and flowers. The town has a bit of French history and the downtown buildings sport colorful fronts with black wrought iron accents. Almost looks like it could be a small town in Europe somewhere, rather than South Carolina.
We stopped for lunch at a restaurant on the square. I wish I remembered the name of it but it served Italian food and pizza. The staff was quite accommodating and the food was wonderful. I had a cheesesteak stromboli and Mom had a small Italian sausage pizza.
It was a fun day to be there. While we were waiting for our lunch, a lady whom we think was the owner or at least the manager came rushing over to one of the other tables. She was almost shouting, "He's here! He's here!" Her joy was evident to everyone in the place. There were other people in the restaurant and it seemed like everyone knew everyone. The he in question was a new baby boy. Just born. They teased the lady for her exuberance and joked about who would get the first pictures. She went back to the kitchen but it couldn't have been five minutes later that she returned to the dining room brandishing a cell phone. While we were not part of the celebration, it just turned our lunch into one of yummy food and utter joy.
After lunch and not wanting to leave Abbeville yet, we walked down the street. Our first stop was what first looked like a gift shop. It turned out to be a wonderful store run by Mennonites. Near the door was a display of baked goods and fresh cheeses. There were grains, spices and all sorts of dry goods. Fresh butter, fresh cheese and all sorts of other yummy stuff too. Then there was the meat cases. Oh, if we hadn't been so far away from home and the weather not quite so warm, we would have left with far more than we did. The fresh meats looked nicer than what we often see at our local Fresh Market and the prices were better than most grocery stores. A sample of their cheddar ranch dip had me drooling for more – if we ever go back in cooler weather – some of that will definitely be coming home with us. The pecan, chocolate bar cookie was divine. Mom's molasses cookies melted a bit in the car – butter! they were actually made with butter. Seems like hardly anyone bakes that way anymore.
Next door was a jewelry and gift shop. We've visited many tourist gift shops and so many of them have the same stuff everyone else does. This shop was full of wonderful Native American inspired jewelry and other handicrafts. We saw a number of interesting pieces but just felt we shouldn't indulge. The owner's disappointment was evident. But, it is definitely a place worth visiting again, particularly if we need a gift for a special someone.

A few suggestions for further reading...