Have you heard of yarnbombing? How about The Toy Society?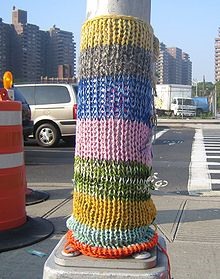 Yarnbombing is when anonymous folks create something with yarn and leave it in a public place. While most yarnbombings are fairly simple tube-like works like the one found to left in New York, some bombings are quite elaborate and truly works of art.

A group of four crochet artists in Denver call themselves The Ladies Fancy Society and one of their grandest escapades was knitting seven feet tall by seven feet around legwarmers for the "Dancers" statue outside the Denver Performing Arts Center. Unfortunately, since much easier to remove than graffiti, these artful expressions often are removed before they can be enjoyed. The great news about the legwarmers is that after they were taken down they were given to an area homeless shelter to use as blankets! The Ladies have participated in a number of art shows and have garnered a world-wide following. You can follow what the Ladies have been up to on their website – Ladies Fancy Work Society.
Many yarnbombers knit or crochet scarves and wrap them around area statues for everyone to enjoy and hopefully someone who needs something warm to wear takes their art for their own. I love that idea! The owners of Yarn Bombing appear to be a bit of a clearinghouse where reports of yarnbombing events are documented and the ladies running the site have even written a great book on the practice of yarnbombinb.
The Toy Society takes these public displays of crafting goodness in a different direction. They keep the aspect of leaving art in public places, but the intent is to share the love by making toys by leaving toys in public places for people to find and keep. At the time I'm writing this entry, there have been over 1,000 drops of toys in 42 countries with the greatest likelihood of finding one of these gifts of love in Australia, the Netherlands and the United States. It looks like their efforts began in 2008 as a small street project in Australia. It now includes special Christmas and Valentine's drops. The toys range from art dolls to simple crochet, knit and stuffed items. The primary focus here is to share love and make someone smile with a bit of kindness and creativity.
Participants in The Toy Society post their drops and the toys are left with the website's contact information so that finders of the toys can share how they came to find the toy and how much it brightened up their day. Tags and other information can be found on their website – The Toy Society.
When things get a bit less chaotic around here, I hope to spread a little crochet love myself. Can't wait!

A few suggestions for further reading...