This week's edition of Tutorial Thursday once again exemplifies the wonderful creativity of the folks who have honored me by participating on Crafty Tips. The projects showcased today cross a variety of crafting types and hopefully there's at least one that will get added to your bookmarks or list of must make someday crafts.
While only three of them are Christmas-themed, all of them would make excellent Christmas presents as well. Two of them use relatively new crafting materials and the others use items that you might already have on hand.
Without further blabbering by me, here's this week's dose of crafty inspiration, Tutorial Thursday…
---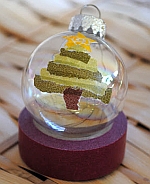 Can I admit that I've never heard or Washi tape before writing this post? Apparently it's yet another super cool craft craze that began in Japan. Washi tape is a low tack paper tape that is offered in a huge variety of colors and designs.
Jessica Okui is the creative genius behind this Zakka Life. She has been featured in numerous magazines and we are lucky that she also shares so many of her projects freely on her blog.
For this project, Jessica is using clear glass ornaments and decorating the outside of the ornaments using the Washi tape. Be sure to check out her blog to see this ornament as well as the other Washi Tape Ornaments that she made.
---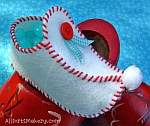 Whether you call them shoes, clogs or wee felt booties, these little felt shoes designed by Jenny B. Harris are oh-so-cute. The pattern uses only 5 pattern pieces and straight stitching which makes them fairly easy to make.
I could so see these being customizable to fit a favorite doll, teddy or Christmas decoration. Of course, they make a pretty nifty jelly bean holder as well.
Jenny is a self-described artsy crafty person. Her blog is full of wonderful things to make. You'll also quickly notice that she is as talented at illustration and design as she is in coming up with great craft projects.
---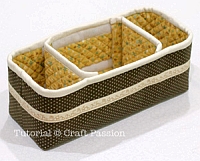 I had thought that this week would be all about Christmas but if you have one of those handbags with a giant central pocket you just might think this is the perfect Christmas gift to give yourself.
We've all seen these on TV. We've all wondered if they would fit our purses and our lives. Now with a little help from Craft Passion you can have one in the fabrics of your choice, sized to fit your favorite big bag and with adjustable-sized compartments.
The editor of Craft Passion designed this handbag organizer to fit her camera and a water bottle. But, her instructions explain how to make this organizer fit any sized purse. With lots of pictures and step-by-step instructions, hopefully you won't have any problems making your own Purse Organizer Insert with Adjustable Dividers.
---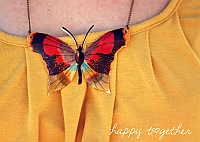 I see so many wonderful vintage illustrations and always wish there was something neat I could use them for besides paper crafting.
They've made Shrinky Dinks for years but, did you know they know make sheets that can be run through a standard color printer? I didn't know either until I saw the lovely butterfly pendents Jessica is creating over on Happy Together.
She explains how she created this and a number of other beautiful vintage butterfly pendents. I could think of so many great pictures that this would work for. These would make perfect Christmas presents for friends and loved ones who love unique jewelry with a bit of vintage flair.
---
Mod Podge Rocks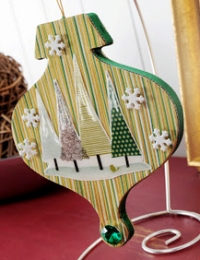 I don't know where she finds the time. A full-time job, a blog where she is constantly showing the wonderful things people around the world are creating with Mod Podge and other Plaid products and yet, she still has time to design very cool projects of her own.
Amy of Mod Podge Rocks posted this great tutorial on how to turn those blank paper mache ornaments carried in most craft stores into something fun and unique a Dimensional Magic Striped Tree Ornament.
With her favorite craft medium of choice in both the Gloss and Dimensional Magic varieties, Amy shows us what can be done with scrapbook paper, ribbon and a number of other crafty items from her stash.
You could easily use these as great place cards for Christmas dinner, keepsake package tags and of course, Christmas tree ornaments. The best part of this great crafty tutorial is that their are multitudes of craft papers and paper mache ornament forms to choose from.
---

A few suggestions for further reading...