This week has seemed both slow and speedy. Not much going on yet here we already are at Thursday. I suspect, like me, many folks are still cleaning up from their Christmas crafting and getting ready for Valentine's Day and Easter and are only thinking about their next projects. That said, this week features a trio of crafters who must be more organized than the rest of us.
A pair of tutorials and a free printable are the features of this week's Craft Tutorial Thursday showcase.
---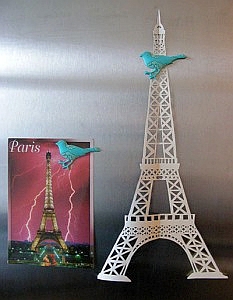 I always love when Miho shares some of her Kirigami work. This week she shared with us one of her latest projects and provided a kirigami how to.
She explains how you can take any symmetrical object and turn it into a beautiful piece of art.
She makes it sound so easy but I have little doubt that it will take the rest of us mere mortals a bit of practice before we could make something as lovely as her cut out Eiffel Tower.
Her work reminds me of Scherenschnitte, the German art of paper cutting where entire designs are cut out one little snip at a time. While they often have some symmetry, they often depict a scene or vignette rather than a single object.
Kirigami looks a bit easier as it relies on the fold to create perfectly symmetrical cuts whereas with Scherenschnitte you can to make each cut individually.
---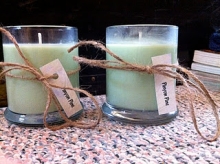 Jessica had wanted to try candle making for sometime. She purchased a candle making kit and shares with us her soy candle making project.
I took a peek at the kit she purchased and it comes with the wax already prepared – no paraffin and other messy stuff required. You just need to melt the wax, add scent and coloring and pour. Yes, I know easier said than done but so much safer than making candles the old fashioned way.
She shares a number of different ideas and explains why she found one technique superior to another. It's a bit like looking over her shoulder as she works with the glass jars, wax and wicks.
Her tutorial is full of great pictures and great tips on making really lovely soy candles in glass jars.
---
This week Emily over at Sweetly Scrapped Art has shared with us another great collection of free printable dresses. In case you missed the first group, here's a link to them too…Printable Vintage Inspired Dresses.
Adorned with everything from roses, to stripes to glittery goodness, these paper-doll style dress printables would make a great addition to a scrapbook page or mixed media art project.
The dress silhouette reminds me of the pretty and feminine dresses of the 1950s and 1960s. So much of the lady's clothing from that era just seemed so very feminine. Even though so much more of the body was covered, to me the clothes was more flattering and far more sexy than today's let it all hang out styling.
---

A few suggestions for further reading...