If you plan on knitting any Christmas presents using the seed stitch, making something unique for a special someone, or decking the halls you shouldn't miss this edition of Tutorial Thursday.
Without further blabbering by me, here are the great projects from a few of the great websites participating on Crafty Tips.
---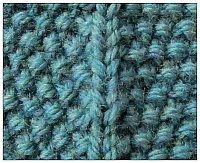 I don't knit but I suppose based upon this tutorial and the comments that have been left that increasing and decreasing seed stitch is tricky.
Thankfully, TECHknitting is providing a very detailed tutorial on that very thing.
She includes written explanations and diagrams on how to increase and decrease stitches on both flat pieces as well as circular pieces. Part of the secret is making adjustments on the row above where the increase or decrease is actually made. Want to know any more than that, you'll just have to visit the site yourself.
---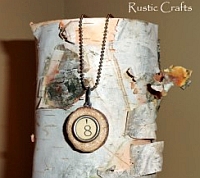 I love the look of old typewriter keys. I also love using natural materials in interesting ways. Renee of rustic crafts has come up with a clever way to use both to create a rustic necklace.
Fortunately, since things made out of vintage typewriter keys are particularly hot right now, you might be able to find a modern version in your favorite craft store if you don't happen to have any antique keys lying around.
Why stop at typewriter keys? I could imagine a huge variety of things attached to a natural wooden disk looking rustic and stylish.
---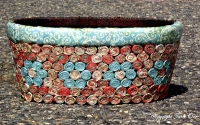 With the announcement of quilling coming to Crafty Tips, who would have expected there would be such a wonderful project for paper rolling that transformed a wicker basket into a work of art, and it's not from a quilling artist?
Tara, that crafty scrapping diva, has given us another great project that is out-of-the-box creative. A recent shopping trip led to one of those "Oh, I could so make that" moments of inspiration. Unlike most of us, Tara actually followed through and is now sharing how she made her altered art basket.
She warns it is a time-consuming project but it would certainly make a wonderful Christmas gift.
---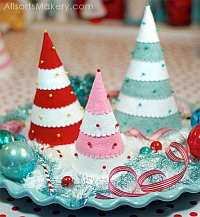 Jenny Harris has come up with another great project this week. Her Festive Felt Christmas Trees would make a great family project. With as much or as little help as they need, little ones could make these charming little trees to adorn the table for Christmas dinner, as gifts or as ornaments for the household Christmas tree.
Jenny has a bit of an advantage over the rest of us with those scallop cut shears of hers but you can easily recreate that scalloped look with a bit of patience and a sharp scissors. For anyone who's interested, there's a couple of pairs listed on Amazon but I don't know anything about them.
Her tutorial comes with printable pattern pieces, clear instructions and suggestions on how to adorn your little felt trees.
---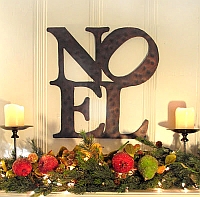 If I weren't writing these posts, I would so be bookmarking this idea. When the folks at Elmer's Glue threw down their Look for Less challenge, I suspect they would not have guessed that Jessica would be creating something like this faux bronze wall art piece. A very popular, and quite pricy, item from Pottery Barn served as her inspiration. Best of all, her version costs $130 less than the original.
Using the required Elmer's foam board along with an Elmer's Painters Copper Leafing Pen and some spray paint, Jessica figured out a way to create wall art that mimics pounded bronze.
She kept to the original design but I could see this technique being used for all sorts of rustic looking wall decor.
And as if you needed another reason to visit her wonderful blog? She has also promised that a great giveaway for a number of Elmer's projects will be coming in the near future.
---

A few suggestions for further reading...