Sigh, yes, I know it's Friday. Again. I just don't understand how each week comes and goes so fast. Add Christmas shopping into the mix and it's a recipe for being a day late in my posting. Waiting to the last minute seems to be a trend in my family each Christmas. We're (we, OK, mostly me) often crafting, wrapping and otherwise running around all day Christmas Eve in hopes of making that one last special gift for each other.
So, what would be better for the last Tutorial Thursday before Christmas than 10 last minute gifts you can make? You could be simply adding a few handmade touches to this year's gift giving or you could be scrambling to have something on hand for an unexpected guest or that loved one you thought you had covered but somehow managed to overlook. No matter why you find yourself crafting or baking at the 11th hour, here's some sweet finds from this week's Crafty Tips participants.
---
Christmas Crafts
---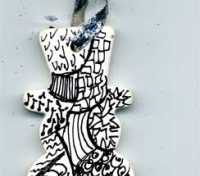 Zentagle anyone? OK, I admit this is the first time I've heard of Zentangle. But, this twist on doodling looks like a super-cool way to decorate any number of things.
June received this snowman ornament and a black Sharpie along with an invitation to try out this new art form.
I love the idea – it's art for those of us who are drawing-challenged. After all, anyone can doodle. And, the best part is that no two will projects will look the same so each one will automatically be unique and one of a kind. It reminds me a crazy quilt. If you want to see all of the ornament visit Zentangle Snowman Holiday Ornament.
---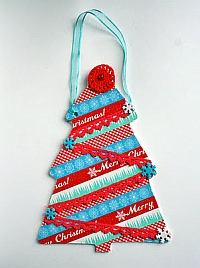 Washi tape, that wonderful crafting tape from Japan, is featured in Amy's great Washi Tape Christmas Tree project.
Turn a plain wooden ornament into a colorful celebration of Christmas with some washi tape, rick rack and other decorative bits that you probably have in your craft stash just waiting for the perfect project to use them with.
You might not want to wait too much longer to give these a try as you'll need to paint the wooden ornament, let the paint dry, and put on at least two coats of Mod Podge to create a nice finish and keep the washi tape from peeling.
Seems like you could easily make a similar project using craft board, craft foam or any number of stiff materials. Amy used brads for her decorations but you might also want to use beads, stickers, buttons or whatever other Christmas-themed embellishments you have on hand. If you're really tight on supplies or don't have any washi tape on hand, you could also use strips of wrapping or scrapbooking paper too.
---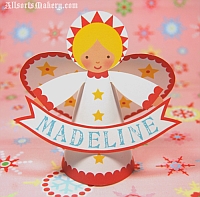 Oh, to be able to draw as well as Jenny does and to be able to design seemingly endless ways to put that talent to good use. Thankfully, she is so very generous with her talent, allowing the rest of us to make things from her free printables. This time she has gifted all of us with this Starry Christmas Angel, Sweet Paper Printable.
I absolutely love this pretty angel and will most likely be using at least one in my Christmas wrapping later today (hopefully, if I can get caught up here first.)
You can make you angel with a garland like the one shown, a star garland, a matching heart or with her arms empty. All of the versions are super cute.
Wouldn't they make great table placecards for Christmas dinner?
---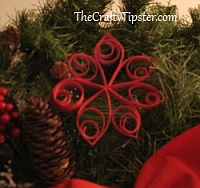 The crafty gal you all know and hopefully love over at The Crafty Tipster (uhm, that would be me), has finally added a new Christmas project.
This one is for a Poinsettia Christmas Tree Ornament.
It's made using quilling techniques and thin strips of paper. The best part is any household with children or crafty folks probably has everything they need to make these paper ornaments.
They are quite quick to make up and if you have a paper shredder that cuts strips, it will be even easier and faster to create a number of these flowers. Modify the construction slightly and they also make great snowflakes!
---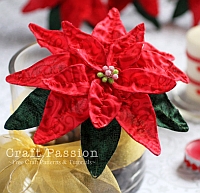 These beautiful poinsettia flowers may require a last minute trip to the local arts and crafts store if you don't happen to have floral tape on hand but they sure do look worth the trip.
These are probably the prettiest version of a handmade poinsettia flower that I've seen.
I think they would look lovely on the dinner table for Christmas. I would think a Christmas tree decorated with these would be bold, dramatic and absolutely gorgeous.
Be sure to check out this Fabric Poinsettia from Craft Passion for a great handmade Christmas gift idea.
---
Christmas Recipes
---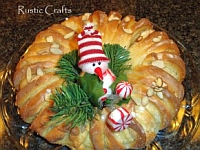 Christmas Morning Breakfast: Almond Yeast Bread is on the menu at Renee's house on Christmas morning. Renee warns that this family favorite can be a little time consuming to make but if you are spending Christmas Eve day in the kitchen baking other homemade goodies anyway, she says this one is fairly easy and can be made in between making other yummy baked Christmas goodies.
When you're doing your last minute grocery shopping for Christmas Dinner today or tomorrow be sure to pick up some fresh yeast, almonds, and almond extract if they are not already in your pantry.
---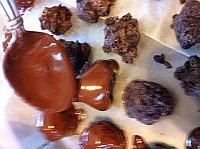 I have no doubt these No Bake Oreo Truffles are as yummy as they sound. Granted, Jessica forgot to share with us a picture of the finished truffles (I would guess they didn't last long enough to be photographed), they already look delicious. After adding the chocolate, they are dipped into Oreo cookie crumbs too. Oooh, yummy.
They are super fast and easy to make. Jessica suggests refrigerating the truffles before drenching them in chocolate and after they're done so they set well – so be sure to leave a little extra time for that.
---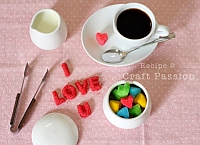 Going to Oma's house was always a treat. Among other things I remember as a child was her sugar bowl. Her sugar bowl didn't contain plain old white sugar granules. It contained magical little cubes of sugar that melted on the tongue and were often doled out as special treats. The adults used them in their coffee and tea but us grandchildren loved to eat them like candy.
The creative folks over at Craft Passion have shared a recipe on making your own Sweet Heart Sugar Cubes. They didn't post them as a Christmas recipe but I think they would add a wonderfully festive look to any holiday table and would make a sweet gift for your favorite coffee or tea drinker.
---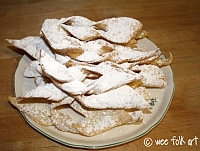 Kimara over on Wee Folk Art shared this wonderful recipe for Angel Wings Chrusciki a year ago but I doubt that really matters to anyone.
These deep-fried pastries are a Polish tradition are made following a recipe from an old Polish bakery where her father once worked and literally melt in your mouth.
The only ingredient you might need to pick up in your last minute Christmas dinner grocery run is a small tub of sour cream and enough cooking oil to fry your Chrusciki.
---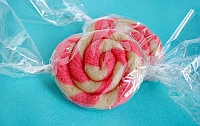 After much experimenting, Jessica found the perfect sugar cookie recipe to make these Peppermint Candy Shaped Cookies. (The cookies are not flavored with peppermint, they just look like peppermint candy.)
These cookies are made with ingredients found in most pantries – though you may need to pick up a bit of cream cheese if it's not a regular item in your fridge.
Jessica provides very detailed instructions with pictures to insure your Christmas cookies turn out as lovely as hers did.
---

A few suggestions for further reading...