Since tomorrow's Thanksgiving, I thought that I would post this week's Tutorial Thursday post a day early. (Due to the magic of time zones, even though it's only 6 in the afternoon where I'm typing this post, it's already Thursday where my webhost is located.
It has been quite a while since I have showcased some of the wonderful tutorials, project ideas and crafting freebies folks participating on Crafty Tips are offering. Armed with a new trick up my sleeve, in the form of Google Reader, I can keep a better eye on all the great stuff everyone's making and hopefully have tons of great things to share with you each Thursday.
---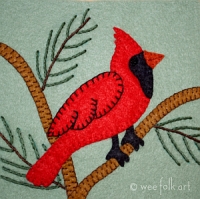 The first project this week comes from the clever mother daughter team at Wee Folk Art.
They have designed an applique quilt block of a cardinal perched on a pine tree branch and are graciously offering it to their readers.
The pattern is available as a PDF file and the link appears in their post entitled, Cardinal Applique Block.
The ladies of Wee Folk Art offer free quilt and applique patterns on their blog. They have announced the exciting news that in early 2012 they will be launching an online shop to sell many of their handmade items. Be sure to check out their blog and put a reminder in your calendar to check back and January to visit their new shop.
---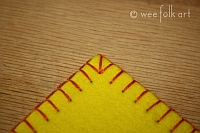 It isn't generally part of the plan for Tutorial Thursday to feature multiple projects from the same blog but this was one tutorial that I feel deserves a bit of special attention.
It's a tutorial on Blanket Stitching Corners and Sewing 2 Pieces of Felt Together. The gals at Wee Folk Art explain their simple technique of creating equally tall blanket stitches as well as making very neat and tidy corners.
OK, so I'll admit it, I included this tutorial so that I can find it again for my own usage. Hope, no one minds.
---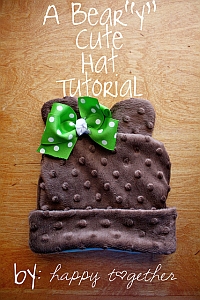 Jessica's blog always offers something interesting. Since the birth of her youngest child, there's always plenty of awwwwww-somely cute baby pictures worth viewing.
But, Jessica's blog is more than yet another 'mommy blog'. She makes some of the most clever things for herself and her children. Best of all, she shares many of her projects with the rest of us and explains how she makes them.
This week, it was her Beary Cute Hat Tutorial that caught my eye.
Using a hat she already knew fit her little one, she created a custom-sized pattern that fits her daughter's head perfectly. Through a series of detailed photos and directions she explains how she made this darling hat and how you can make one that will fit your little cutie too.
Jessica shares her forays into her search for new and interesting recipes, stories about her life and of course her great crafting tutorials.
Be sure to check out her other great projects when you visit her blog; her creativity when it comes to repurposing clothing is amazing!
---
Handmade Holiday Decor Ebook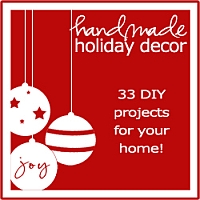 Amy, that goddess of all things decoupage at Mod Podge Rocks and a number of other great crafters have contributed to this crafty and clever free ebook. Two crafty gals organized the book and Myra from My Blessed Life is offering the ebook for free on her blog.
I've taken a peak at the projects and they have compiled a great variety of projects. The entire family can participate in making this a handmade Christmas while decorating their home with flair and pizzazz.
Any's the only one of the group that I know is participating on Crafty Tips. I do hope some of the other crafty gals who contributed to this free Chrismas decorating ebook consider participating as well.
---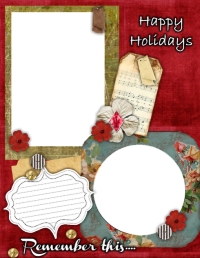 Sweetly Scrapped is Emily's blog where she shares many of her lovely paper art.
Her blog features free digies, embellies, printables, blog backgrounds (tutorials and freebies) and other free tutorials and templates. Her latest freebie is for a Free printable 8.5 x 11 Christmas scrapbook template layout and card sketch.
She is offering the digital scrapbook layout you see here along with a design that could be used to create an all-occasion greeting card.
Emily's blog is full of vintage and original art that you can use online or off. Etsians and others will find a large selection of banners that they can use for their shops, websites and blogs.
Be sure to follow the link to her Etsy shop where she offers a wonderful collection of handmade gift tags.
---
Now that I have a way to see what everyone's doing, Tutorial Thursday should become the event that I had originally envisioned it to be. I can't wait to see what great projects and freebies everyone comes up with next week!

A few suggestions for further reading...