Easter Sunday in Western North Carolina was a glorious day. The weather has been quite unpredictable here this spring. It's normal for this area to see a last gasp of wintry weather in April. But, this year has been a mix of terribly dull, dreary gray days – some rainy, others just looking like it will rain, glorious sunny days and mid-winter-like days. It'll be 70 degrees one day and snowing the next.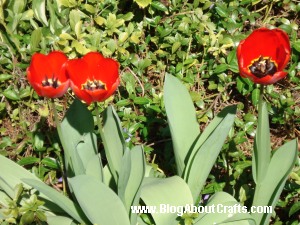 Our daffodils froze while the next door neighbor's were lovely. It was just a matter of dumb luck which day the buds happened to open and which days fell below freezing overnight. We thought our tulips had been nipped by Jack Frost but Easter morning brought a happy surprise. Three bright red blooms were dazzling amongst the greenery of the evergreens and ground cover.
We had planned on listening to a sunrise service that was to be rebroadcast at noon, have a lamb dinner and dye eggs. Oh, but the sunshine and fresh air beckoned. We looked at each other and wondered if Easter dinner would be any less festive if it were eaten on Easter Monday. After about 10 minutes of should we or shouldn't we, we decided it was definitely the perfect day to celebrate living in the mountains in the springtime.
I figured we could visit one of the roadside waterfalls just outside of Brevard in Pisgah Forest. We drive past it several times a year but the parking area is often full.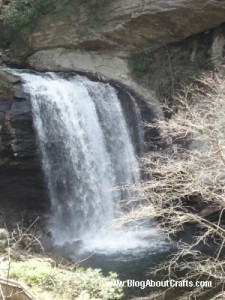 I figured since it was around 10:30 we would have the area to ourselves. We were able to snag a fairly good spot but were far from alone. All of the picnic areas in the national park were occupied by large families and full tables. The falls could have been just about anywhere in the world as those who stopped to view them were from all over the country and had a wide variety of ethnic backgrounds. My picture makes them look a little on the short side but so much of the day was about the sunshine and the trickling and roaring of the water that the memories far outshine the pictures.
On the way to the falls we had the radio tuned into a local talk radio station and hoped we would not miss the sunrise service. Instead we heard a beautiful service from one of the larger churches in our area. The gentleman who spoke to the children in front of the alter spoke of his love of Easter and how it was the one time Fluffy and Muffy could come to church too. We immediately assumed Fluffy and Muffy had to be two white rabbits he must have been holding. We were wrong on both counts. The two white fur balls in question were a pair of cats who were not present.
To make a long story short, he had the children barking and meowing like cats and dogs while he sang Jesus Loves Me. You didn't have to be in the church to know how beautiful that moment was. Mom and I just looked at each other giggled and sighed "Aww, how cute."
We had pulled off the road and were sitting next to a rushing and noisy creek. The sun made the white water sparkle, the birds were singing and we were surrounded by the peace and serenity of the forest.
It was such a perfect moment.
We drove past fields of cows, horses, sheep, llamas, goats and even a saw pair of huge pigs rooting in the spring grass. Chickens, ducks and geese were also along our route. We immersed ourselves in nature and gloried in the day that God had made. Despite the close to 70 degree temperatures we even saw some patches of snow in roadside ditches in the higher elevations.
The day came to a spectacular end when arriving home we were greeted with the news that a trio of Navy snipers did their thing and the brave Captain Phillips was finally safely rescued.
All in all, it was a picture perfect day and as I type this entry, Easter dinner is just about ready to be served. We never got around to dying the eggs but somehow neither of us really cares.

A few suggestions for further reading...