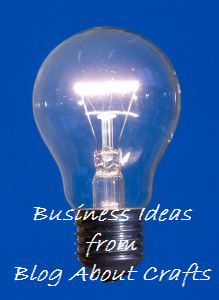 There are so many topics when it comes to crafts and the Internet. So, today I thought I would just list a few short topics.
Free Business Advice
In the US, sorry don't know about other countries, there are a number of options for crafters and other small business owners to get free business advice.
Perhaps the most well-known, but least used resource is SCORE. It is a national group of retired executives who share their years of business expertise for free. There are chapters all over the country. Just check out the phone book for their listing.
Check with your state's college/university system. Some have wonderful programs that are being funded with your tax dollars to help entrepreneurs. I live in North Carolina, but the program in Georgia sponsors classes, seminars and allows folks in neighboring states to participate. Keep in mind, if your state doesn't have what you are looking for, a neighboring state just might.
Visit your local community college. You may find they have small business programs. Even those that don't have specific programs will most likely have continuing education classes that run under $100 and are often taught by professionals and business owners rather than professors.

Picking a Name
Every company needs a name. Many crafters start small and don't consider a website when they name their company. I would strongly suggest considering available domain names when deciding on what to call your new business.
You might come up with the perfect name, even the perfect logo, but what happens when the corresponding domain name is already being used? Suppose that website is a competitor? People looking for you by name might find them instead. Suppose that website has questionable material on it? People will find that too.
Even if your current plans don't include setting up a website, for less than $20 a year you can protect your name by registering the domain name.
Don't Get Bam-Googled
The Internet can have a long memory. Remember 2 years ago, when you posted all about your personal problems – and used your name, nickname, or picture? Many people will research a company before doing business with them. Do you think anyone is going to give you $250 for that custom, handmade item if they find out you were making very immature, nasty, or questionable posts on a forum last year? Maybe yes, maybe no.
A site that recently submitted to my Craft Directory set off my inner sense something wasn't cool about them. A search for the person's name led to several articles about people suing them for unfair and misleading business practices. Needless to say their submission was deleted.
What's upcoming?
Be sure to check back for my next post on creating an About Me page for your website.

A few suggestions for further reading...