After four straight days of shoveling, chopping and otherwise hacking at the snow and ice in our driveway, my hands, wrists and arms complained terribly every time I tried to do any crocheting. So what if it was the week before Christmas and Mom's hat wasn't done. So, what else is new? Mom getting something half-done for Christmas is pretty much routine around here.
I did finish her hat yesterday and hopefully will have pictures tomorrow. For a teaser, here's a link to what I used to base my pattern on – Crochet Ridged Hat.
I was also trying to come up with a simple stuffed crochet heart pattern for Valentine's Day. I figured that I could spend a couple of hours and would have a pattern that I could actually post on The Crafty Tipster. Well that was the plan anyway. My last pattern for a pinecone was really cool but I kept changing it every time I made one and never actually got around to posting anything. Hopefully, one day soon the pine cone will be unveiled.
The heart didn't come out like I had planned. It just didn't look right.
. Yeah, I know you can see the white stuffing. It is only a prototype. I would definitely use some cheap red acrylic yarn to stuff a final piece.
My poor little heart seemed a bit too pointy to me and was definitely not something worthy of sharing with the world – at least not yet.
But, while trying to figure out where I was going wrong, I realized – hey those make cute little legs.
I love making little critters and things and thought my failed heart was turning into a cute Amigurumi something.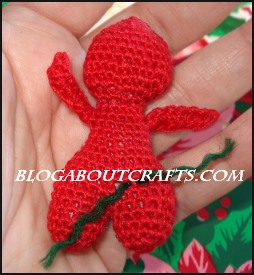 As you can see my little oops doesn't have a face yet. And I'm thinking of adding a bit of hair. But overall, I think it's kinda cute for a boo-boo. (The green yarn is there to mark the "front" side.)
I figure if it weren't for those projects that go wrong somewhere that the world would be missing out on so many great works of art and inventions.
After all, Post-It notes are made with a failed glue and who would want a glue that doesn't stick?
A bit of creative thinking took that failed glue and gave us Post-Its. Not that I'm comparing the genius of those little notepads we all know and love to my little crochet critter but both take a perceived failure and turn it into something useful.
So, what great cleverness has come from one of your oops projects? Care to share? Have any great stories of turning a craft failure into inspiration?

A few suggestions for further reading...