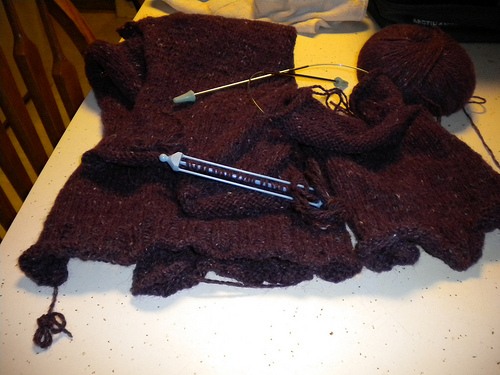 Crafters have to be some of the coolest people I know! One Ravelry member is on a personal quest to find the owner of this knitted work in progress. I thought I would do my little part to help her in her heartwarming quest for the rightful owner of this partially completed sweater made from Rowan yarn.
Lucinda was recently shopping at the Unclaimed Baggage place in Scottsboro, AL and was able to rescue it. Her blog is EweManiac and she has a thread going on over on the Ravelry site – FOUND: lost project in AL unclaimed luggage! (you have to be a Ravelry member to view this link; it's free and a great community BTW)
So, if this WIP looks like yours or that of someone you know, contact Lucinda and you'll make her day!
It would be so exciting to see this quest come to a happy ending!
In case you've never been, the Unclaimed Baggage place buys all of the lost, stolen and misrouted suitcases, carry-ons and stuff left on planes. They then sell the items at their huge store in Alabama.
Perhaps, we've just been to too many good thrift stores but we found the prices a bit high and the experience was quite depressing. Class rings, wedding rings and all other sorts of irreplaceable personal treasures were being sold along with impersonal items like toiletries, books and CDs. They have tracked down some owners but, other than things left behind on planes, everything was more than likely paid for in the form of compensation for lost baggage – of course, if it were my suitcase, I'd rather have my class ring back than $400. The CD's were the only thing worth digging through the day we were there and I do mean dig – there was just shelves and piles of them with no organization.
Anyway, three cheers for what Lucinda is trying to do and hopefully the knitter of this WIP can be reunited with his/her project.

A few suggestions for further reading...